How to Build your own pellet mill?
Many people is annoyed with the waste in their home. There are agriculture wastes in their farms, such as rice bran, peanut husk, straw, groundnut-shell, wheat straw, rice husk, maize straw, canola straw etc. And there are also some branches, leaves etc in their garden . How to deal with those waste? We can't just let them stack in our stock , backyard...
There is a specialized machine that can solve your problems, and make full use of the waste. It is pellet machine, you also can call it pellet mill, pellet making machine, etc.
What can a pellet machine do for you?
Pellet machines can makes wastes into wood pellet fuel or animal feed pellets.
Animal feed pellets
Making feed pellets can balance the content of different kinds of nutrition for the better growth of livestock, poultry and other animals. Pellet machine is suitable for making poultry feed pellets, cattle feed pellets, fish feed pellets, chicken feed pellets etc by changing the pelletizing molds and compression ratio. It can also make pellets of different diameter.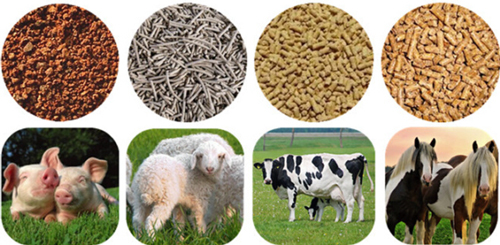 Besides, pellet machine is also suitable for making bedding pellets for animal stalls from cardboards.
Wood pellet fuel
Wood pellet fuel is green, environmentally friendly, cleaner burning, more efficient, and powerful enough to heat most average-sized modern homes. As we all know, pellet stoves are more popular and convenient than wood fireplace. So it becomes necessary to make your own wood pellet fuel, so that you can take full advantages of our forestry and agriculture wastes.


How to choose the best pellet machine for yourself?
Now, we know the usage of a pellet machine. How to choose the most suitable one for yourself? Here are some tips you should know:
What's your raw material ?
Different materials need different types of pellet machine. For example, if you want to make animal feed with agriculture wastes, the flat die pellet machine will be suitable. But if you want to make pellet fuel with wood or sawdust, the rotating roller pellet machine will be your best choice.


What capacity do you need?
The pellet machine of different capacities have different powers, thus the energy consumption varies. If your just want the machine for home use, the small capacity will be OK. But if you want do related business, you'd better choose large capacity types.
Which power source do you need ?
For now, we have four types of flat die pellet machines: electric motor, diesel engine, gasoline engine and PTO. You can choose the suitable one according to your actual situation and demand.


Do you need auxiliary equipment?
The auxiliary equipment include hammer mill (to pulverize or crush large-size raw materials), dryer (to dry the raw materials with the moisture content higher than 15%) and pellet cooler (to cool the hot pellets). These equipment are mainly used in larger pellet production line or those who make pellets for sale.
Choose a reliable manufacturer
Pellet machine is a long-term machine, so big manufacture will be your best choice.
Quality: Through layers of screening , the construction material of the machine are better than that of small workshops.
After sales service: big manufacturers can offer better after sales service, and help you solve all the problem you meet during operation.

Transportation time and cost
If the pellet machines are not in urgent need, shipping will be OK. It takes longer time than by air, but the freight is much cheaper.
When you intend to build your own pellet mill, pls keep these tips in mind. Gemco is a pellet machine manufacturer with more than twenty years of experience. If you need a pellet machine, Gemco can help you make the best choice. Welcome to contact us in the form below for more information.
Get In Touch
We receive enquiries in English, Español (Spanish), Русский язык (Russian), Français (French) and العربية (Arabic). Our professional team will reply to you within one business day. Please feel free to contact us!