pellet cooler
Pellet cooler is widely used to cool the finished pellets. The cooling capacity of pellets depends on the size, density, temperature and composition of pellets. GEMCO pellet cooler includes 1200*1400 grid, has a dwell time of approximately 10-15 minutes, and has a rotary airlock installed on the top of the machine. GEMCO pellet cooler is counter flow designed and cools pellets rationally, and it can avoid the cracking or breaking of pellets.
Pictures of Pellet Cooler Machine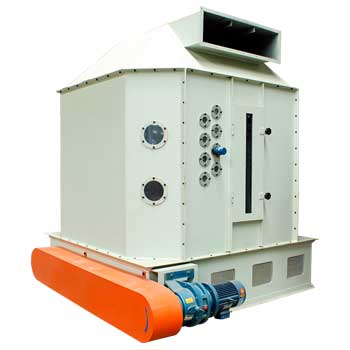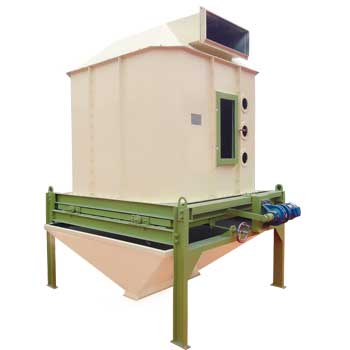 Technical Data of Pellet Cooler
| Model | Cooling Volume (m3) | Output (t/h) | Air-absorbed Volume (m3/h) | Power(kw) |
| --- | --- | --- | --- | --- |
| SKLN14 | 2.5 | 1-2 | 10000 | 3 |
| SKLN19 | 5 | 3-5 | 15000 | 3 |
| SKLN22 | 8 | 6-8 | 27000 | 2.2+1.5 |

Working Principle of Pellet Cooler
Cool air flows from bottom to top, while the pellets drop from top to bottom, in this way, the pellets are cooled completely. The manufacturing steel plates are 3mm thick. The pellet cooling machine consists of vessel, wind-in cone, discharge system, feed port, exhaust inlet, level control indicator. This equipment should be used with air lock feeder, cooling wind net.
Features of Pellet Cooler
The pellet cooler is octagonal designed with clear-view windows for maximum pellet level visibility.
Pellet cooling machine adopts optimal efficient counter flow and rotary airlock at inlet.
Pellet cooler's vessel is made of high quality carbon steel. It has feed port, exhaust inlet, level sensor window, and stable plates, etc.
The wind-in cone in the pellet cooling machine is made by welding the punched screen deck groups. It has discharge port, wind inlet and connecting flange, etc.
The level control indicator consists of sensor level indicator and level adjustment system, etc.
The cooled pellets will be discharged by slide valve or impeller.
Get In Touch
We receive enquiries in English, Español (Spanish), Русский язык (Russian), Français (French) and العربية (Arabic). Our professional team will reply to you within one business day. Please feel free to contact us!