pto pellet mill
Unlike electric pellet mill or gasoline pellet mill, PTO pellet mill is powered by a PTO (Power Take Off) from a tractor, rather than a motor or engine, to make biomass pellets. PTO pellet mill is connected to the tractor by the PTO shaft. As a popular small pellet mill for home use, PTO pellet mill is widely used on farm with a tractor or a truck.
PTO pellet mill is the first choice for farmers who want to make biomass pellets from agricultural residuals, such as: alfalfa, wood shavings, sawdust, rice husks, straw, corn stalks, peanut shells, and grass, etc.
Pictures of PTO Pellet Mill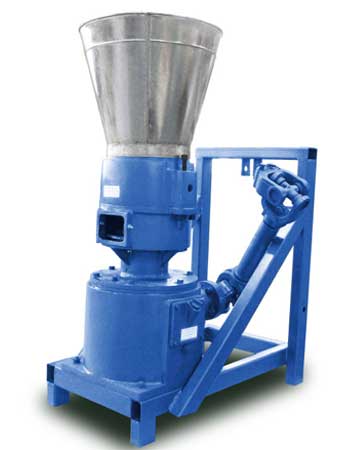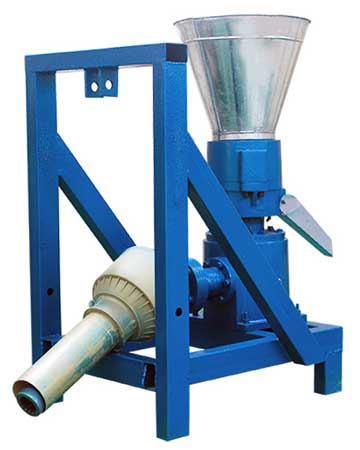 Technical Data of PTO Pellet Mill
| Type | Power (Hp) | Output (kg/h) | Weight (kg) | Package size (mm) |
| --- | --- | --- | --- | --- |
| ZLSP-150P | ≥ 8 | 50-100 | 90/110 | 900*540*1020 |
| ZLSP-200P | ≥ 15 | 80-120 | 130/150 | 1000*540*1020 |
| ZLSP-230P | ≥ 22 | 120-200 | 175/200 | 1000*540*1020 |
| ZLSP-260P | ≥ 30 | 160-250 | 235/255 | 1050*540*900 |
| ZLSP-300P | ≥ 55 | 250-400 | 305/325 | 1100*540*1000 |
How PTO wood pellet mill makes pellet with your tractor?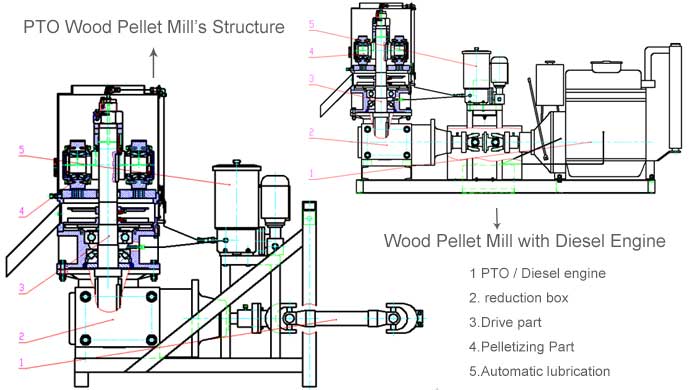 Advantages of PTO Pellet Mill
Since PTO pellet mill hooks up to a tractor, it makes pellitizing available in the field or anywhere electricity is not available.
Lower price and low energy consumption, compared with the wood pellets making machines driven by other powers.
Reasonable design, small size, light weight, easily moveable, easily connected and disconnected to the tractor or truck.
High efficiency: With reasonable design, the PTO pellet mill feeds and press evenly, enjoys stable performance, and discharges pellets with low damage.
Various kinds of pore diameter flat die to choose. The size of wood pellets can be customized by changing different pelletizing models.
Stronger and durable spare parts, as the roller and the die are made of high grad complex alloy steel
Moreover, as PTO pellet mill is connected with the tractor, it is very easy and convenient to move the pellet mill rather than to move the raw material for making pellets.
Pellets made by PTO pellet mill have smooth surface, strong standard hardness and high heat value.

With rich and professional experience, GEMCO is the hands-down leader specializing in China in small wood pellet production machinery. GEMCO PTO pellet mill has met thousands of customers' needs, and it will certainly satisfy you, too!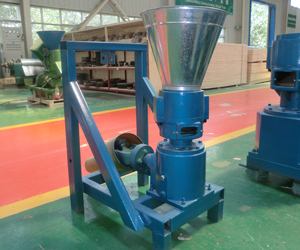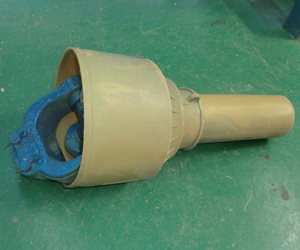 About Alfafa and Alfalfa Pellets
Alfalfa is the most widespread pasture in the world. The most significant features of alfalfa is the strong vitality and fast growth speed. It grows very fast, and contains a lot of nutrition when used as animal feed. As a result, alfalfa is widely seen in parks, gardens, lawns and other fields. To make full use of alfalfa, making them into pellets is a pretty good choice! Get to know more about alfalfa pellet's application, how to make alfalfa pellets with alfalfa pellet mill, and how to choose a good alfalfa pellet extruder.
Pictures of Alfalfa and Alfalfa Pellets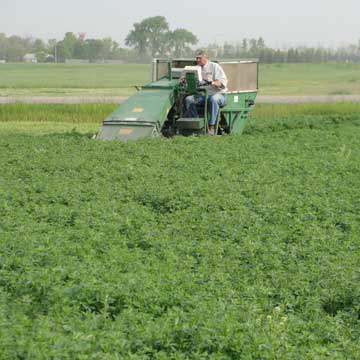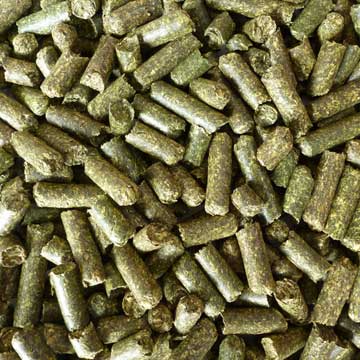 Alfalfa pellets can be used as fuel pellets and animal feed. The BTU of alfalfa pellet is 7729 per pound, and alfalfa pellet is a good choice for home heating and cooking. What's more, alfalfa pellets are widely used as animal feed, especially horse feed, as they add huge amount of calories and protein into the diet. Besides, alfalfa pellets are an excellent nitrogen source (up to 5%). They also contains trace minerals and triacontanol, a naturally occurring plant growth promoter, which has been shown to improve the growth and yield of many crops.
Get In Touch
We receive enquiries in English, Español (Spanish), Русский язык (Russian), Français (French) and العربية (Arabic). Our professional team will reply to you within one business day. Please feel free to contact us!