500-800kgh sawdust pellet line
GEMCO is able to establish various biomass pellets making plants with different capacities according to your own needs. GEMCO 500-800kg/h sawdust pellet mill line is very simple and reliable. This sawdust pellets production line is mainly composed of the flat die sawdust pellet mill, screw conveyor and integrated cooling screen
Before making sawdust pellets with this line, you need to make sure that the powders of sawdust are small enough. You can pulverize the raw material with hammer mill or wood chipper to crush them into small size. This sawdust pellet line is rather simple for making pellets from sawdust powders. Below is the picture of this pellet line: screw conveyor, pellet mill and integrated cooling screen.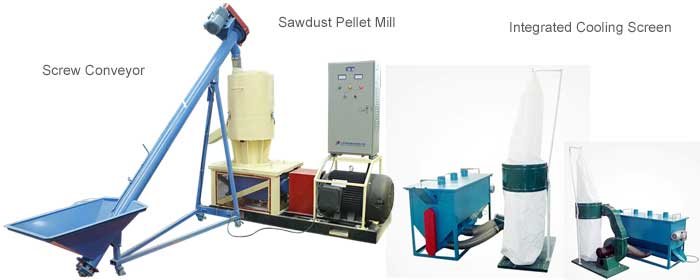 The production process of sawdust pellet line

Sawdust Pellet Mill
The sawdust pellet mill in this pellets making line is flat die designed with three rollers above the die. When making pellets, the flat die is stationary, while the rollers rotate to compress the raw material into the holes in the die to form pellets. For flat die pellet mill, this pelletizer's pellets output capacity is large enough. This sawdust pellet mill can make noth softwood and hardwood pellets. For more information, please visit
sawdust pellet mill for home use
.
Technical Data of Sawdust Pellet Mill
| Type | Power(kw) | Capacity(kg/h) | Weight(kg) | Dimension (mm) |
| --- | --- | --- | --- | --- |
| ZLSP550B | Three phases 55 | Sawdust 500-800 | 3500 | 2300*750*1850 |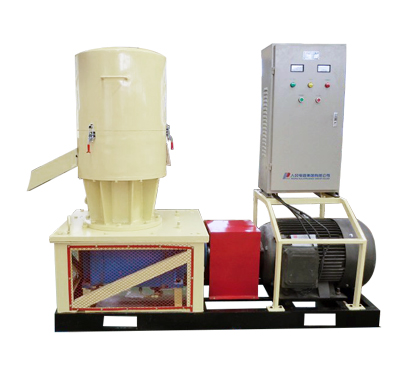 Screw Conveyor
Screw conveyor is used to convey all kinds of powders of raw materials for making pellets. It is moveable with locking wheels on the wheels. It is also very popular in conveying semi-finished product and finished product in industries of food and feed. In this small sawdust pellets making line, the moveable screw conveyor is used to convey the well-prepared sawdust into the sawdust pellet mill. Moreover, it translates raw material into pellet mill evenly at adjustable speed, which protects the motor of pelletizer from damage of raw material's shock.
Technical Data of Moveable Screw Conveyor
| Type | Power(kw) | Dimension(mm) | Packing Size(mm) | Loading Capacity(kg/h) | Lifting Height(mm) | Weight(kg) |
| --- | --- | --- | --- | --- | --- | --- |
| YVP90L-4 | 1.5 | 2490*610*2110 | 2800*850*740 | 1000 | 1500 | 180 |
The diamater of this screw conveyor's outlet isφ114mm. The vertical distance from the outlet to ground is 1750mm, and the distance between the outlet and the edge of the foundation frame is 410mm. Screw conveyor's feeding volume is about 0.06m³.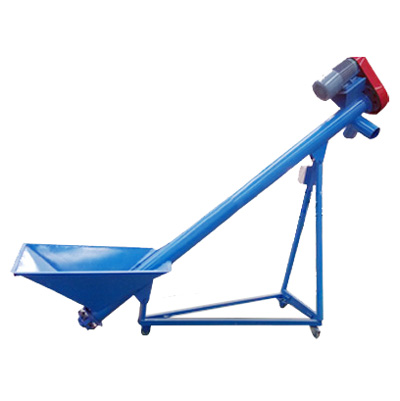 Integrated Cooling Screen
Integrated cooling screen, also called rotary cooling sifter, is used to cool the finished pellets and separate the qualified pellets from their debris and dust. The debris can be collected and remade into pellets. It is mainly composed of cylinder cooling sieve and dust collecting bag. The dust collecting bag is mainly used to collect debris and dust via its induced draft fan. It can effectively reduce dust's density in the air, and ensure clean working environment.
Technical Data of GMC-LQSF50 Integrated Cooling Screen
| Type | Capacity(kg/h) | Power(kw) | Weight(kg) | Dimension(mm) |
| --- | --- | --- | --- | --- |
| GMC-LQSF50 | 350-400 | 0.75 | 175 | 1580*680*945 |
You can also equipment this simple sawdust pelleting line with other accessory machinery like hammer mill and cooling machine, etc, to make the pellets production process more complete. We are willing to help you with any question of pellets making lines. You will get the most suitable customized pellets making line at the most competitive price from us! We are looking forward to your contact.
Get In Touch
We receive enquiries in English, Español (Spanish), Русский язык (Russian), Français (French) and العربية (Arabic). Our professional team will reply to you within one business day. Please feel free to contact us!