wood debaker
Wood debarker is widely used to remove the bark from wood logs, trunks and branches. Wood debarker mainly has three types: drum debarker, ring debarker and rotary debarker. GEMCO wood debarker is rotary debarker. This rotary debarker adopts the latest advanced technology in debarking the small and medium size logs. It enjoys the advantages of low initial investment, high efficiency and large production capacity. GEMCO wood debarker is one of the best choices for small and medium scale factory.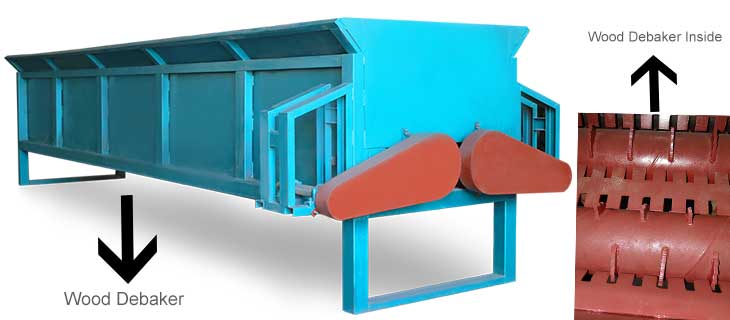 Technical Data of Wood Debarker
| Diameter range of log | Capacity | Debark rate | Wood loss rate | Wood Log Length | Power (kw) | Overall Dimension (mm) |
| --- | --- | --- | --- | --- | --- | --- |
| 20mm-500mm | 7-8 t/h | >90% | <2% | ≤6m | 7.5*2 | 8000*1400*1700 |

How does the wood debarker work?
Logs or wood trunks are batched and fed linearly into the rotary wood debarker. As the drum rotates and tumbles the logs, the bark is removed by rubbing against the drum walls and other fiber in the drum. These are bin type wood debarkers utilizing longitudinal rolls, or rotors, with attachments using a combination of mechanical and log-to-log contact to remove the bark. This wood debarkers are primarily used in larger whole log chipping applications.
GEMCO wood debarker has full contact of rotors along entire length of log, ensuring small diameter, crooked and swept logs can be effectively debarked. It causes fewer damaged logs, less fiber loss and lower operating costs. You can contact us for more detailed information,. and we are always at your service!
Get In Touch
We receive enquiries in English, Español (Spanish), Русский язык (Russian), Français (French) and العربية (Arabic). Our professional team will reply to you within one business day. Please feel free to contact us!