pellet sifter
Pellet sifter, also called pellet sieve and pellets vibrating screener, is widely used in grading crushed materials and qualified pellets. Pellet screener is very useful in separating qualified wood pellets, bamboo pellets, EFB pellets, grass pellets and other bbiomass pellets. When used in different pellets manufacturing processes, it is known as wood pellet sieve, bamboo pellet screener, and sawdust pellet sifter, etc. Its name varies the biomass pellets it sifts. The unqualified particles and the off-size pellets will be returned into the feeding inlet of pelletizing line as raw material for another round of being pelletized.
Pellet sieve is indispensable in large scale pellets manufacturing plant. It separates and collects pellet's debris as raw material for making into pellets again. Besides, pellet screener also cools biomass pellets while sieving. Therefore, pellet screener is widely connected to pellet mill as it is necessary in making pellets. Below is the picture of GEMCO pellet vibrating sifter.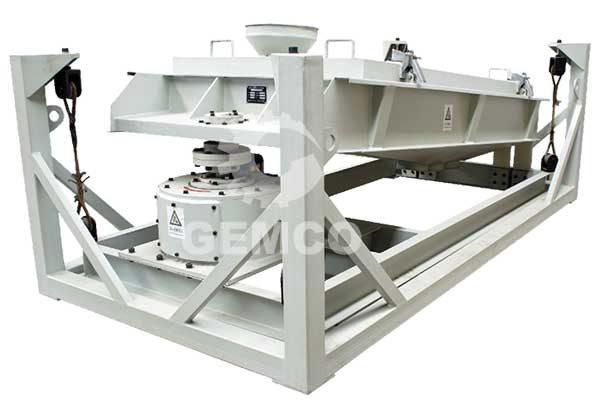 Technical Data of Pellet Sifter
| | | | | |
| --- | --- | --- | --- | --- |
| Type | SFJH80×2 | SFJH100×2 | SFJH130×2 | SFJH150×2 |
| Power (kw) | 1.1 | 2.2 | 3 | 4 |
| Capacity (t/h) | 1~2 | 3~4 | 5~6 | 7~8 |

Features of Pellet Sifter
Tail pulley support is turned to elastic tail support, thus greatly reducing noise and improving performance.
Less fault, less maintenance, easy operation, non-gear-drive gear box, no need for lubrication avoiding oil leaking.
The inner structure of outlet adopts streaming design which avoids materials jam and cross-contamination.
The pellet sieve enjoys simple and convenient structure and quick replacement.
This pellet sifter is widely used in grading and sieving of pellets and crushed materials, secondary cycle crush process, and cleaning and grading of some pellets and powder process.
GEMCO SFJH series grading pellet vibrating screen is necessary in large scale wood pellets production line for grading crushed materials and qualified pellets. GEMCO pellet sifters include single-layer sieve, two-layer sieve and three-layer sieve. You can choose the most suitable pellet sifter according to your specific requirements.
Get In Touch
We receive enquiries in English, Español (Spanish), Русский язык (Russian), Français (French) and العربية (Arabic). Our professional team will reply to you within one business day. Please feel free to contact us!