Alfalfa Pellets As Horse Feed & Fuel | Alfafa Pellet Mill
Alfalfa & Alfalfa Distribution
Alfafa, also called lucerne in English and luzerne in French, is a perennial flowering plant in the pea family Fabaceae cultivated as an important forage crop in many countries around the world. Alfalfa is native to wamer temperate climates and has been cultivated as livestock fodder since at least the era of the ancient Greeks and Romans.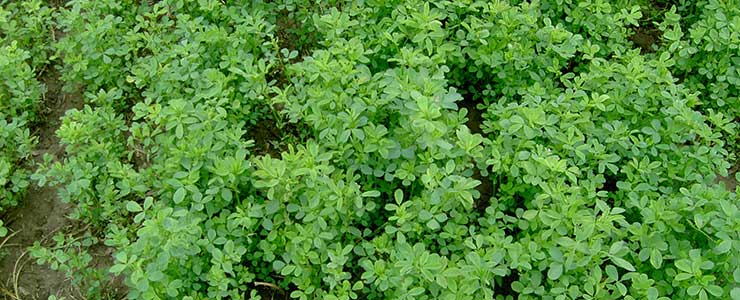 Generally speaking, alfalfa can grow four to eight years. However, it can live more than 20 years according to the variety and climate. Alfalfa has a deep root that reaches down to 4 m, but can reach 7-9 m in well drained soils. Its stems are erect or decumbent, up to 1 m high, glabrous or hairy in the upper parts. Leaves are trifoliate, with obovate leaflets, 10-45 mm long and 3-10 mm broad. And it can regrow many times after being grazed or harvested. More and more alfalfa has been grown around the world. In 2006, the worldwide production of alfalfa was around 436 million tons. In 2009, alfafa was grown on approximately 30 million hectares, of this North America produced 41%. The US was the largest alfalfa producer in the world by area in 2009, with 9 million hectares, and the leading alfalfa-growing states were California, Idaho, and Montana. However, considerable production area of alfalfa is also found in Argentina (6.9 million hectares), Canada (2 million hectares), Russia (1.8 million hectares), Italy (1.3 million hectares), and China (1.3 million hectares).
Alfalfa Pellets Application
As alfalfa is so widespread all over the world, people pay more attention on how to make full use of alfalfa. A good choice is to make alfalfa pellets with pellet maker. Alfalfa pellets are mainly used as animal feed, but they can also be used as energy fuel, sometimes.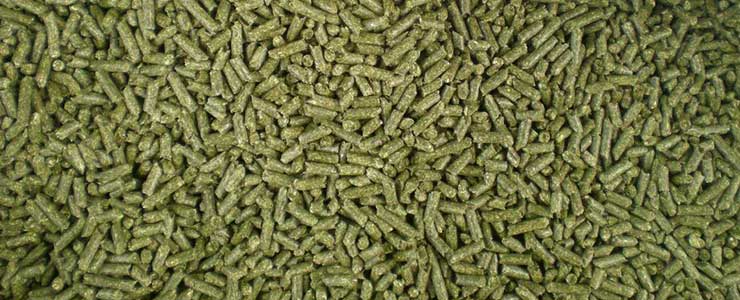 Alfalfa Pellets as Horse Feed
Due to its high nutritional quality, high yields and high adaptability, alfalfa is one of the most important legume forages of the world. As a major source of protein for livestock, alfalfa is a basic component in rations for dairy cattle, beef cattle, horses, sheep, goats and other classes of domestic animals. Alfafa is usually cultivated for hay, and is frequently used for silage or haylage, dehydrated to make meal or pellets. In several countries, dehydration plants produce alfalfa pellets with standardized protein content targeting specific markets.
Before making pellets, alfalfa is usually dehydrated. Dehydration is the best way as it dries and stabilizes alfalfa while preserving its high protein content, vitamins and overall nutritive value. What's more, dehydrated alfalfa is a good source of xanthophylls and beta-carotens for poultry farmers.
In European countries, alfalfa pellets are generally used to add calories to a horse's diet. They can be found at almost any horse feed store and they can be fed in conjunction with almost any other feed, including beet pulp or alfalfa cubes. Alfalfa pellets are a great source of calories for horses, as they are forage-based. Alfalfa pellets are also often used as horses'feed as they are low in carbohydrates, low in sugar, moderately high in protein, high in calories and digestible fiber. easy to feed and store.
Alfalfa Pellets as Fuel Energy
Usually alfalfa pellets are used as animal forage, especially horse feed. But they can also be used as fuel energy for burning and heating. As a green and clean fuel, alfalfa pellets are usually used together with other biomass pellets, like wood pellets, sawdust pellets, rice husk pellets and straw pellets, etc. By using the mixed different kinds of biomass pellets, burning releases less smoke and leaves less ash.

How to Make Alfalfa Pellets?
Alfalfa pellet maker can be divided into small flat die pellet mill and large ring die pellet mill. With pellets making machine, you can turn alfalfa into pellets. For the small pellet mill, also called homemade pellet press, diy pellet mill, it usually has 4 different driving forces: electric engine, PTO, diesel engine and gasoline engine. For small output capacity, PTO pellet mill is easy and convenient for making alfalfa pellets on farm.
After alfalfa is dehydrated in the sun in alfalfa field, you can drive a tractor with PTO alfafa pellet mill to make alfalfa pellets, thus saving the trouble of moving the raw material alfalfa. Before pelletizing, you should pulverize the alfalfa plant into small powders with a hammer mill. Then the alfalfa pellet mill compresses these alfalfa powders to form alfalfa pellets.
However, for large capacity or alfalfa pellets business, you still need the industrial pellet mill to establish the complete alfalfa pellet plant. The alfalfa pellet plant contains the crushing system, drying system, pelletizing system, cooling system and packing system.
The dried alfalfa should contain proper moisture before being crushed by hammer mill. And then they are dryed by rotrary dryer to ensure the right moisture content. Then they are transported into the industrical alfalfa pellet mill (which is usually
ring die pellets making machine
to make alfalfa pellets. After the pellets come out of the pellet mill, alfalfa pellets are collected and conveyed into the pellets cooler to reduce their temperature themselves for later being packed with the pellets packaging machine.
How to Choose a good Alfalfa Pellet Mill?
First of all, you should bear in mind which driving force you prefer and what alfalfa pellets output capacity you need. Then it's important for you to find a reliable pellet mill supplier. Besides, you should also take the before and after sales service into consideration for cooperation.
Here one more thing you should know is that you can certainly count on GEMCO machinery. GEMCO pellet mill has been exported to many different countries all over the world. And probably we have old customers in your country, too. GEMCO pellets making machine has won CE, ISO and many other certifications. You can rely on the quality of GEMCO machinery. Moreover, GEMCO offers excellent and responsible one-stop service. We are always at your service and you can contact us now.
Get In Touch
We receive enquiries in English, Español (Spanish), Русский язык (Russian), Français (French) and العربية (Arabic). Our professional team will reply to you within one business day. Please feel free to contact us!