Poultry Feed Mill | Feed Mill Machinery | Feed Pellet Mill
Animal feed ingredients ranges from grain mixes to orange rinds to beet pulps, bone powders and all of these ingredients can be compressed into pellets by feed pellet mill. Feed mill machinery is widely used to make feed pellets for animals, livestock and fish, etc.
During handling of raw ingredients (flour, sugar, salt), additives (baking soda, citric acid, phosphates), or finished products (cereal, dry powder beverage), food manufacturers frequently encounter poor flow. Our feed pellet mill solves this problem smoothly. The feed pellet extruders have two models, STLP300 and STLP400, with pellets output capacity 600-1000kg per hour. Our feed pellet mill enjoys the following advantages: high quality, small size, compact structure, easy operation, low power consumption and little maintenance. The well prepared feed ingredients which are uniformly blended are fed into feeder of forage pellets extruder. Then the dry mixed materials and added steam are blended together in the conditioner to make mash wet and then sent to the pelletizing chamber by gravity or a forced feeder system. In the pelleting chamber, a series of rollers are above the horizontal die. And the wet mash with proper moisture content is compressed by the rollers into the holes in the flat die of the machine to form pellets. A series of knives will cut the emerged pellets into the same length once they come out of the flat die. Thus you will get feed pellets with the uniform shape. Below is the picture of our feed pellet press machine.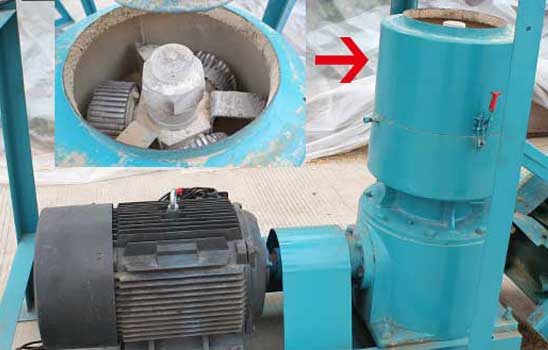 Our small feed pellets manufacturing line contains all the machinery needed in forage pellets production, from grinding, mixing, pelletizing, conveying and cooling the final pellets. If you want to sell these finished feed pellets, a pellet packaging machine is needed to weigh and seal pellets in bags for easy transportation and storage. This feed pellet production line makes pellets for poultry, fish, sheep, cattle, rabbit, horse, chicken, duck, goose, pig and other livestock, etc.
Animal Feed Pellets
The feed pellets for cattle have a coarse structure, which helps to reduce the starch degradation in the rumen. The PH-value remains stable, optimum utilization if the genetic performance.
Feed pellets for pigs manufactured by our feed pellet mill, have high feed consumption, high fattening yields, drier manure without stomach diseases.
Forage pellets for pets are dimensionally stable extruded feed with high starch modification.
Poultry feed pellets have no feed selection, but longer retention time in the intestine.
Fish feed pellets are floating, slowly or very slowly sinking pellets.
Our animal feed pellet mill can also be improved to make water-stable pellets for shrimps and other crustaceans.

Feed Pellet Mill Maintenance
Maintenance can prolong the service life of feed pellet mill, and ensure its good daily performance, reduce the chances of feed contamination and improve pellets output efficiency. Maintenance for feed pellet mill can be divided into: routine maintenance, emergency maintenance, call-in maintenance and preventive maintenance.
Routine maintenance are done based on a scheduled basis, which consists of lubrication of bearings, replacing wearing spare parts of feed pellet mill equipment such as die or rollers of feed pellet mill, and checking oil levels in gear boxes.
Emergency maintenance refers to reacting to unscheduled breakdowns and actions must be taken immediately.
Call-in maintenance usually involves an emergency situation where the people required are not at hand and must be summoned from somewhere else.
Preventive maintenance consists of scheduled inspections and making adjustments and repairs to feed mill equipment, such as the replacement of worn parts prior to failure, based on observed conditions or known useful life spans, to make sure it is in proper working order.
As a professional manufacturer and supplier of pellet machines, we offer affordable price on feed mill machinery and spare parts, together with the following excellent service:
Pelletized free samples before you buy a feed pellet mill.
Practical advice based on rich and professional experience in many different industries.
Professional customer support and training to start up your feed pellet mill or feed production line.
If you want to know more about animal feed pellets, poultry pellets, fish pellets, how to make feed pellets or feed pellet mill, please feel free to leave us a message. And you will get the reply within one business day. You won't be disappointed with either our feed pellet machinery or services.
Get In Touch
We receive enquiries in English, Español (Spanish), Русский язык (Russian), Français (French) and العربية (Arabic). Our professional team will reply to you within one business day. Please feel free to contact us!