How to build a wood pellet silo at home?
Wood pellets are clean and high-efficiency fuels. They have high calorific value, low ash and smoke emission. They are high-density solid compressed by sawdust or straws.
The energy content of wood pellets is 4.75kWh/kg, similar with briquettes' 4.8kWh/kg. Wood pellets are usually bought by tons or kilograms. On average:
1 cubic meter of pellets weigh 600kg, with the energy content of 3000kWh.
The heat value of 500kg pellets equals 237 liter of oil.
1 cubic meter light fuel oil equals 3.3 cubic meters of pellets.
1 stacked cubic meter of birch logs equals 0.51 loose cubic meter of pellets.
Use of wood pellets
Wood pellets can be used in pellet stoves that connect with pipes and heating radiators to form a central heating system. It can also be used in biomass boilers for power generation or industrial production, as an alternative for coal and oil. You can simply transform your old boilers to make it adapt to pellet fuel.
For large wood pellet consumers, they order wood pellets from wholesalers. The wood pellets are packaged in bags, transported by trucked, and directly sent to the storage silo.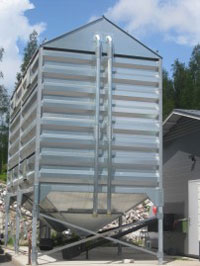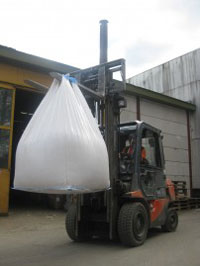 Store the wood pellets in a wood pellet silo
To store enough wood pellets for biomass boilers, you need to prepare a storage silo. Fill the silo with large sacks of wood pellets every few weeks according to your consumption. Equip the wood pellet silo with a screw conveyor to feed wood pellets to the boilers.
The picture below is a pellet storage silo filled by hand, whose capacity is 1t. The wood pellets in it is transmitted to the boiler by a screw conveyor. So you should build the storage silo near the boiler.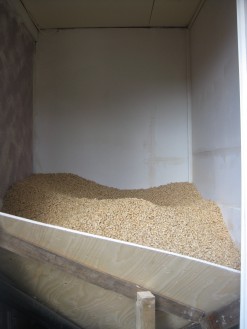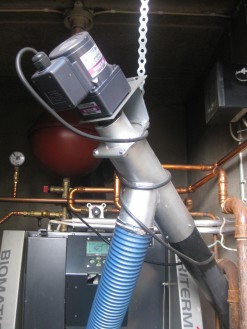 You can buy wood or metal storage silo in the market, but you can also make one with an oil drum or a 500-litre wheelie bin. The picture below is a homemade silo. It is a wheelie bin with the capacity of 500kg.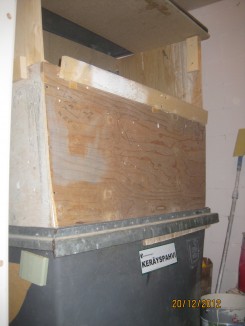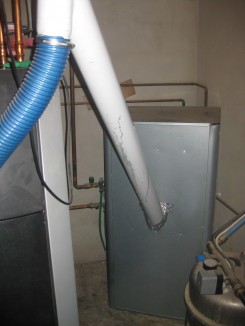 If you haven't built up a wood pellet silo, you can store the pellet in a roofed outhouse temporarily.
Requirement for a wood pellet silo
A storage silo should has a steeply inclined bottom, so that the pellets can freely flow down to the screw conveyor.
A storage silo should be durable and tight, because wood pellets are heavy fuel.
The silo should be dry without static electricity, as wood pellets will break down into sawdust in damp environment. Also, the storage silo should prevent from fire or high temperature.
The silo must be equipped with a service hatch to facilitate maintenance. An organic glass window can allow you to check the remnant fuel.
It is advisable to build or buy a static silo with the capacity for annual pellet supply, if you have enough space and budget.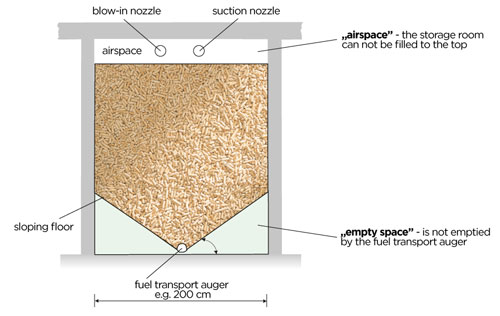 Notes on wood pellet silo design
Take into account the manner of filling when designing a silo. It can be filled manually or with a truck.
If the silo is filled by a truck, it the silo must have an outgoing air pipe and a connector compatible with the truck. This allows the truck blow the pellets to discharge pressure.
Install collision prevention mechanism to protect pellets from damage when entering into the silo, or the wood pellets are easy to break when the truck blow them into the silo. You can install rubber matting or an old tyre for protection.
Self-made pellet silos should have wooden cladding.
Avoid going into the silo alone. There should be a warning sign on the service hatch saying: before entering the silo make sure there is no dangerous fume or oxygen deficit.
Get In Touch
We receive enquiries in English, Español (Spanish), Русский язык (Russian), Français (French) and العربية (Arabic). Our professional team will reply to you within one business day. Please feel FREE to contact us!