make grass pellets
Biomass Pellet Fuel
Over the past decades, there has been an increasing concern over environmental protection, reducing greenhouse gas and advocating low carbon life. Combined with the threat of higher prices of oil, natural gas, and electricity, people turn their attention to developing low cost renewable fuels. Biomass fuel (biofuel for short) is such a new sustainable energy.
Biomass pellet fuel is the most common form of biofuels. Pellet fuel has the advantage of being easy to handle for transportation, storage and usage. What's more, there are more and more combustion technologies available (stoves, indoor furnaces, and outdoor hydronic water heaters) nowadays. Another advantage of biomass pellet fuel is that it is cheaper heat source than fuel oil. Conventionally most solid biomass heating fuels like woodchips, wood pellets and cordwood came from forests and the forest products industry. But wood grows too slowly to meet our current and future energy needs. Recently, growing crops (both herbaceous and woody) especially for energy has gained widespread appeal. And perennial grasses such as switchgrass, miscanthus and reed canarygrass become new renewable energy options.
Grass Pellets
Nowadays, perennial grasses are being used as a solid fuel in co-fired coal power plants as well as targeted as feedstock. With the advancements in the technologies of pellet stoves and pellet boilers make grass pellets easy to be converted into heating energy. Grass pellets have combustion efficiency and energy density that is similar to wood pellets. Grass pellets can also be used as animal feed as they are nutritionally balanced. There are many reasons why make grass into pellets, and the main reasons are as follows:
To improve the convenience of handling, transport and storage
To improve combustion efficiencies
To reduce particulate loads
To greatly reduce fire risks
To make animal forage more nutritional (for example making grass into feed pellets for horse)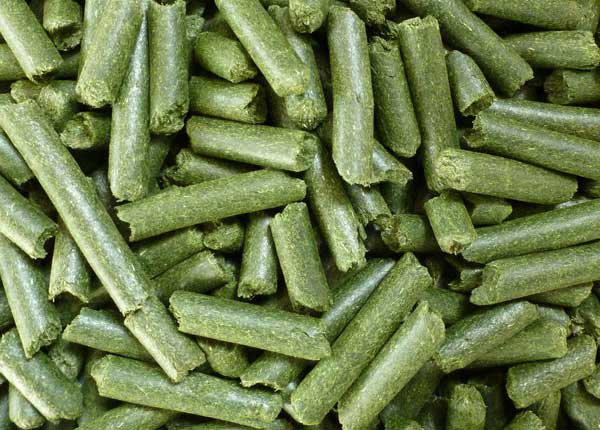 The US Pellet Fuel Institute has developed guidelines for super-premium, premium and utility pellets. Grass pellets would generally fit into the utility pellets grade, if total ash content remains below 5% and Cl content below 300ppm. However, using grass pellets as biofuel energy has many advantages:
First of all, grass is easy and cheap to grow, harvest and process. Generally speaking, grass has strong vitality and it can be grown on marginal lands and in open rural land currently not in agricultural production. Grasses yield more biomass per acre, and require less investment and inputs compared with annual crops that require more diesel, fertilizer and pesticides. What's more, once planted, perennial grasses can grow many years with well management. Therefore, the cost for making grass pellets is less compared with wood pellets or other biomass pellets. Second, compared with wood pellets, making grass pellets is more cost-effective as it has high rate of return on investment.
Generally speaking, the most common grass pellets are switchgrass pellets, miscanthus pellets and reed canarygrass pellets.
Switchgrass Pellets
Switchgrass (panicum virgatum) is native to the northern United States. Switchgrass pellet is able to release usable heat at 82-84% efficiency in a close coupled gasifier pellet stove designed to handle moderately high as fuels. Compared with oil and natural gas systems, switchgrass pellets have the potential to reduce fuel heating costs and greenhouse emissions. There is more detailed information about switchgrass and switchgrass pellets.
Miscanthus Pellets
Miscanthus, also known as elephant grass, does not grow from seeds but from purpose planted rhizomes. Unlike switchgrass, which can spread easily, miscanthus is none invasive. As a fast growing giant grass that can be harvested for years without replanting, miscanthus can also be used in pellet fuel manufacturing.
Miscanthus pellets can be used for fuel in stoves or boilers. Miscanthus pellet has low moisture content and low mineral content, provides plenty of heat. Below is the comparison between miscanthus and miscanthus pellets.
Materials
Moisture content
Ash content
Calorific value
Density
Miscanthus
during harvest, 29-33%
Storage phase, less than 15%
About 3.7%
12.96 MJ/kg
150kg/m³
Miscanthus pellets
Less than 8%
0.5-2%
19.59MJ/kg
600kg/m³
Unlike wood pellets miscanthus pellets used for animal bedding, are softer, more absorbent, hygienic and easier to use, offering a natural, eco-friendly alternative to wood, straw, paper or clay based beddings and litters.
Reed Canarygrass Pellets
Reed canarygrass is a perennial weedy wetland grass, native to parts of US, Europe and Asia. As a perennial plant, it doesn't need to be replanted, nor does it require herbicides or insecticides. According to a research, 3 tons of reed canary grass pellets would yield a BTU content equivalent
to 800 gal of propane. For someone who already has hay harvest equipment and with reed canarygrass on his/her property, we would expect a substantial savings in heating fuel.
How to Make Grass Pellets?
To make grass pellets, a grass pellet mill is indispensable. Making grass pellets at home for small scale individual use or for large scale commercial production needs different grass pellet mills. GEMCO offers both small and large grass pellet mills for you to choose.
Small grass pellet mill refers to grass pellet mill for home use, and it can be named as follows according to its different driving forces: electric grass pellet maker, < a href="/diesel-pellet-mill.html" target="_blank">diesel grass pellet mill, gasoline grass pellet press and PTO grass pelletizer. To make grass pellets with household pellet mill, you need to cut grass into short length first of all. If you don't like cut grass by hand, a hammer mill would help a lot. Hammer mill is used to pulverize grass into small powders. As you make grass pellets only for your own heating needs, so a hammer mill with small capacity will be enough. The moisture content of grass needs to be proper, which is important for pellets' high density. You may need to dry them in the sun. Then put the grass powders with proper moisture content into grass pellet mill for pelletizing. And then you will get desirable grass pellets. The following are the pictures of grass pellet mills with different driving engines.
To make grass pellets for commercial business purpose, you need to establish a complete grass pellet making line. This grass pellets line contains all the necessary equipment in pellet plant. Like other biomass pellets, the making process of grass pellets is mainly as follows:
Crushing→Drying→Pelletizing→Cooling→Packaging
Crusher for chopping grass into powders
Rotary dryer to dry grass powders and ensure proper moisture content
Ring die pellet mill to make grass pellets at high output rate
Pellet cooler to cool down grass pellets' temperature
Pellet packaging machine to pack grass pellets into bags for the convenience of transportation and storage.
If you want to make grass pellets, whatever kind of grass you want to make into pellets, whether small scale or large scale production, you can count on our help, machines, and services! Please feel free to contact us no matter what problem you encounter.
Get In Touch
We receive enquiries in English, Español (Spanish), Русский язык (Russian), Français (French) and العربية (Arabic). Our professional team will reply to you within one business day. Please feel free to contact us!