make switchgrass pellets
Switchgrass Panicum Virgatum
Fast growing warm season perennial grasses have been identified as ideal candicates for biomass fuel production, and switchgrass is one of them because of its moderate to high productivity, stand longevity, high moisture and nutrient use efficiency, low cost of production and output to input ratio of approximately 20:1, and typically can produce 185GJ (175.5 MBtu) of energy per 10 tonnes of biomass from land that is often of marginal crop value.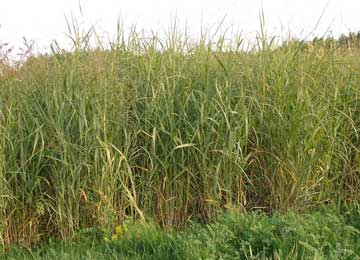 Switchgrass also known as panicum virgatum, is a perennial warm season bunchgrass native to the majority of the USA east of Rocky Mountains. It is one of the dominated species of the central North American tallgrass prairie. It is able to grow up to 2.7m high and its leaves are 30-90cm long, with a prominent midrib. Switchgrass is adapted to a wide range of soils and climate conditions and it generally needs relatively little herbicide, fertilizer, lime or water. The left is a picture of switchgrass planted after only 18 weeks.
Switchgrass doesn't need to be planted every year, because it is a long-lived perennial grass with strong vitality. Once planted with proper management, it will produce biomass for a period of 15-20 years.
Besides its tolerance of poor soils, flooding and drought, switchgrass is resistant to many pests and plant diseases, and it is capable of producing high yields with very low applications of fertilizer. This means that the need for agricultural chemicals to grow switchgrass is low to nonexistent; however, fertilization may be necessary to maintain harvestable stands. Switchgrass production can benefit farmers, taxpayers, industrial fiber producers, energy producers and energy consumers. Switchgrass is a valuable soil protection cover crop. It binds loose soils and provides valuable wildlife habitat. Therefore, planting switchgrass only needs little investment while brings huge benefits.
Switchgrass Pellets
As switchgrass has strong vitality and needs little management, it becomes a widely popular biofuel. Switchgrass biofuel, also called as switchgrass biomass energy has many different ways, the most common one is switchgrass pellet. Switchgrass biomass mainly refers to switch hay can be successfully pelletized. However, there is also a small challenge because switchgrass while are very similar in some ways to wood fiber, it does not flow exactly like sawdust. Because switchgrass's relatively low bulk density and unique physical properties can cause material handling issues. But these issues are also easily addresses with the correct engineering and mill designs by us, GEMCO expert research team.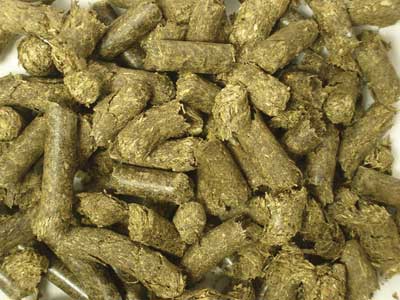 Switchgrass has been used for game cover, reclamation, and as a buffer zone along streams to keep harmful chemicals and sediments out of our waterways. Switchgrass pellets can be used for heating and cooking like in pellet stoves. Compared with premium wood pellets, switchgrass pellets have a higher ash percentage that acts differently than wood ash. Switchgrass pellets can be converted into usable heat at 82-84% efficiency in a close coupled gasifier pellet stove designed to handle moderately high as fuels. Relative to oil and natural gas systems, switchgrass pellets have the potential to reduce fuel heating costs and greenhouse emissions. Converting switchgrass pellets into heat using close coupled gasifier stoves and furnaces is proposed as the biofuel system with the greatest potential to displace fossil fuels nowadays.
How to Make Switchgrass Pellets?
To make switchgrass pellets, the switchgrass pellet mill is the most important equipment. Due to the bulk density of switchgrass, it's better to have a specially designed pelletizer for switchgrass pellets. GEMCO wood pellet mill is able to make hardwood pellets that have rather high density. Therefore, making switchgrass pellets with GEMCO wood pellets making machine is a good choice. For large scale production of switchgrass pellets, establishing a complete switchgrass pellet line is necessary. The switchgrass pellets making process goes mainly as follows:
Crushing: chopping switchgrass into short length
Pulverizing: ensuring the size of switchgrass for making pellets is small enough
Drying: making sure switchgrass has proper moisture content
Pelletizing: making pellets from switchgrass powder above with large switchgrass pelletizer
Cooling: cool down the temperature of the well-made switchgrass pellets, which is good for later storage and usage
Packing: packing the final switchgrass pellets into bags for the convenience of transportation
Switchgrass Pellets in Canada
Canada is ahead of the United States in developing switchgrass as a biofuel. Producing switchgrass pellets for use in decentralized home heating systems is well developed, and pellet stoves are briskly selling to individual homeowners as supplemental heating sources. In eastern Canada, compared to all other biofuel production and energy transformation ways currently proposed, switchgrass pellet heating offers the highest net energy yield per hectare, the highest energy output to input ratio, the greatest economic advantage over fossil fuels, and the most significant potential to offset greenhouse gases.
Switchgrass Pellets in US
According to the agronomist in Agricultural Research Service (ARS) of America, switchgrass pellets would result in sizable financial savings, at three-fourths the cost of conventional sources of heating oil: $21.36 per gigajoule compared to $28.22 for fuel oil. In sum, should switchgrass cultivation and pellet manufacturing scale, consumers in the Northeast could save up to $3.9 billion annually and cute CO2 emissions five percent.
Switchgrass pellets are especially widely used in the following states of America: Texas, Michigan, Ontario and Kansas. Switchgrass has been used as a feedstock for ethanol for years, and bio-refineries are increasingly churning out such biofuels, or technically cellulosic ethanol. But the switchgrass-based ethanol's fuel-and-cost-efficiency is not very good. Switchgrass pellets, on the other hand, could offer an alternative to home heating oil that not only offers lower greenhouse gas emissions, but could save consumers money–even if the price of conventional sources of fuel fell as much as one-third from current levels.
Switchgrass pellets are also widely used in UK. Switchgrass pellet was pelletized for the first time as a biomass research project at the University of Kentucky College of Agriculture in UK. With more and more switchgrass pellet stoves come into market, there is larger and larger demand for stove pellets. If you have any question about making switchgrass pellets or switchgrass' specific quality, feel free to contact us ASAP. We are willing to give you a hand and always at your service!
Get In Touch
We receive enquiries in English, Español (Spanish), Русский язык (Russian), Français (French) and العربية (Arabic). Our professional team will reply to you within one business day. Please feel free to contact us!