Small Pellet Mills | Flat Die Wood Pellet Machine
Nowadays, with the development of society, green life has been advocated by increasingly more countries. People all over the world use biomass energy to reduce the usage of traditional fuel like oil and gas, thus protecting our environment. Biomass pellet is one kind of the main biofuel energy, and wood pellet is the most commonly used biomass pellet. With more and more application, wood pellet has increasingly larger demand in market. Consequently, more and more people buy wood pellet mill to make pellets.
Generally speaking, wood pellet mill can make almost all kinds of biomass pellets. Wood pellet mill is mainly divided into large pellet mill (also called ring die designed pellets machine) and small pellet mill (also named as flat die pellet mill). The former pellet mill is mainly for industrial use like wood pellets production line in pellets manufacturing plant, while the later wood pellet press is for home and individual uses. As a professional manufacturer and supplier of pellet mills, we have established many turnkey projects abroad. And our flat die pellets making machines have been exported to many different countries. Due to different structures, our flat die pellet mill in market mainly has two types: die turned and roller turned. Many customers don't know which one to choose as they have no idea about these two types.
As we all know, with world's attention to the new energy, biomass energy began to develop in the last 20 years. Biomass pellet mill is designed from feed pellet mill. Because biomass material contains more lignin than the raw material of feed, making biomass pellets needs more pressing force. As a result, demand for the strength of machine's spare parts is higher. And the speeds of biomass pellet mill and feed pellet mill are also different. Therefore, their structures also vary.
Generally speaking, the most obvious difference between these two types lies on different raw materials. Die-turned pellet mill is usually for making feed pellets, while roller-turned type for making biomass pellets. However, considering the relatively high cost of roller-cost pellet mill, GEMCO has developed the roller-turned pellet mill specially for making sawdust pellets to meet customers need for making some biomass pellets with lower cost. But on the whole, roller-turned pellet mill has advantages over die-turned pellet mill in strength, reliability, and service life.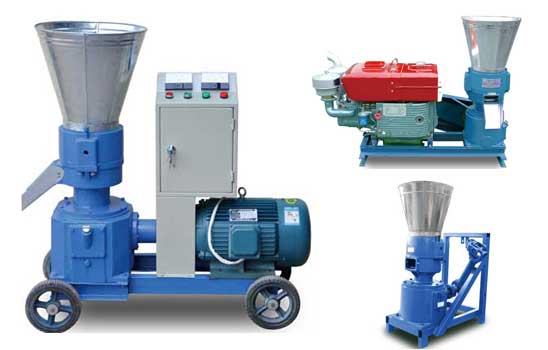 Below is the performance comparison between die-turned feed pellet mill and roller-turned sawdust pellet mill.
Pellet Mills
die-turned feed pellet mill
die-turned sawdust pellet mill
Roller-turned pellet mill
Advantages
1. Large pellets output capacity
2. Low price
1. Large capacity
2. Low price
3. Lubrication is available even if the machine is running.
4. Wide application, both for sawdust and feed.
1. Pellets have good shape, smooth surface, density is higher than 1.1*10³kg/m³.
2.Machine's body is made of carbon structural steel, tensile strength(350-500MPa)is as twice as casting(160-220MPa).
3. Adjustment of the space between die and rollers is convenient and uniform.
4. Greater power, the torque of main axis is as twice as the turned die, more suitable for hardwood.
5. The strength of spindle, roller shaft, and bearing is safe and reliable, twice as dynamic die's strength.
6. Processing all kinds of hardwood such as oak, beech and elm, etc.
7. Low noise from reducer
Disadvantages
1. cannot process sawdust
1. cannot process hardwood.
2. Pellet' appearance is not as good as that made by roller-turned pellet mill.
1. Cork pellets' capacity is not as much as that made by roller-turned pellet mill.
Comparison Between Die-turned Pellet Mill and Roller-turned Pellet Mill:
NO.
Project
Roller-turned Pellet Mill
Die-turned Pellet Mill
Note
1
Types
200,300 and 400
120,150,200,230,260,and 300
2
Forming Characteristics
The driving rollers are good for pressing the raw material. Rollers' shaft with big diameter can bear the reacting force of hardwood and other materials that are difficult to form. Low speed reduces the sensitivity of materials for good flexibility.
The driving die makes raw materials and rollers rotate at the same time, so raw materials can be fully into the pressing area, which is good for feed pellets formation. The simple structure of the rollers' shaft is good for bearing strong deformation force. High speed improves pellets' quality and reduces energy consumption.
3
Pellets Forming Effect
Pellets have strong hardness, high density, good durability (PDI), smooth surface, meeting demands for storage and transport.
Pellets have medium hardness and density, good hydrolysis to meet decomposition of good feed, and proper durability (PDI) to meet requirements for storage.
4
Structural Advantages

Welded frame of the body, strong overall strength, good working stability

Casted frame of the body, receiving working vibration, reducing noise
5
Transmission Characteristics
General gear box is high-quality and from the professional supplier. The accuracy of the gear is above 7 levels. The box ensures excellent comprehensive performance, has strong adaptability, and fits various granulating conditions.
Special reducer adopts rear axle hypoid bevel gear from the car, and has automobile transmission's high reliability. It has large overlap degree, good stress. It has obvious cost advantage due to its large quantity.
6
Dynamic configuration
Electric motor, diesel engine, gasoline engine, and PTO, etc. It has no special requirements for driving force.
Electric motor, non-electric motor (diesel engine, gasoline engine, and PTO) needs the transmission to be strengthened or improved.
Die-turned type already has several non-electric motor products.
7
Speed Range
90-130r/min
220-270 r/min
8
center line velocity of the roller
0.7-1.6m/s
1.3-2.3 m/s
preliminary calculation

9
Service life of die and rollers
Die: 600h
Rollers: 800h
Die: 600h
Rollers: 800h
10
Power Consumption
11.5-13 kg/kw
12-13.5kg/kw
preliminary calculation
11
Application Scope
Strong overall strength, reasonable structure, reducer has large power, high reliability, and suitable for continuous production line and industrial production.
Enjoying cost advantages, low unit power consumption, multiple models, suitable for feed production, small unit operations for different user groups.
Here is more information about comparison between roller-turned and die-turned flat die pellet mills for your reference if you are interested..
Get In Touch
We receive enquiries in English, Español (Spanish), Русский язык (Russian), Français (French) and العربية (Arabic). Our professional team will reply to you within one business day. Please feel free to contact us!