2018 Europe Pellet Conference summaries
2018 Europe Pellet Conference (EPC) took place from Feb. 27th to Mar. 1st in Wels, Austria. EPC is the world's largest annual wood pellet event, focusing on the commercial and residential use of wood pellets. About 560 biomass industry colleagues from Europe, North America, South America, Asia, Africa, and Australia attended the Conference.
In Feb. 27th, they hold several symposium on wood pellets applications. In March 1st, the delegates separately introduced their domestic market. The followings are the abstracts of the conference.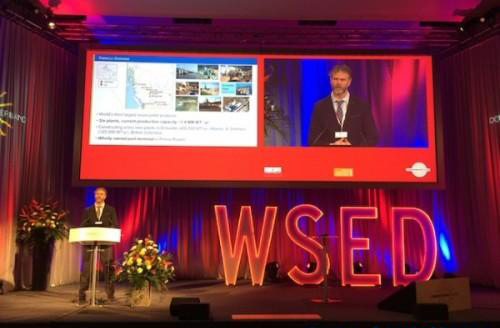 Scott Bax of Pinnacle renewable energy speak at Europe Pellet Conference
Important topics of the conference
Dr. Ute Collier of International Energy Agency (IEA) reported the their bioenergy roadmap. It is predicted the bioenergy will take up 17% of all energies, higher than today's 4.5%. The bioenergy development need accelerate. Currently, 80% Europe's renewable energy is bioenergy.
Nathalie Hemelers of European Bioenergy Association summarized EU's package program of clean energy. It will set the regulatory framework from 2020 to 2030. The details of clean energy program is under discussion by European Commission and European Council.
Jan Steinbach of Fraunhofer Institute reviewed the research of heating supply in Europe. He predicted the residential heating can realize high-efficiency working in condensing mode and zero carbon emission by virtual of the flexibility of wood pellets. These functions will help pellet heating stoves occupy more market, and increase the public's acceptance of new technology.
Dr. Ingwald Obernberger introduced an improved design of small pellet boilers. By Integrating the flue gas condenser it can improve the efficiency and flexibility of the fuels. The new design will improve the competitiveness of pellet boilers in heating supply market.
Maura Adams of America North Forestry Center (NFC) put forward the proposal of making wood pellets again. They want the public to learn more about the wood pellet heating system.
Manfried Faustman of Windhager claims that the boiler installers are the representatives in the frontline of the biomass industry. They will recommend boiler systems, so the boiler quality have great impact on the word of mouth, so as to determine the success of biomass boilers.
Lukas Kranzl of Austria Vienna Technical University propose to couple heat pump and wood pellet boilers to improve the economic potential of heating supply.
Kay Staubach in DBFZ introduced the research of global wood pellet industry and trade. Europe takes up 75% of the world pellet consumption and 54% production, with 64% for heating supply and 36% for power generation. North America takes up 12% of the word's consumption, and 35% production, with almost all for heating supply. Korean and Japan is becoming major wood pellet consumers, while China remains unknown.
Stan elliot of pellet fuel research institute reported that the wood pellet exportation takes up 80% of America's 6.9 million tons production. The domestic wood pellet consumption is stagnant owning to 4 reasons: the price competition from heating oil; frequent warm winters; lack of government incentives; lag in technology. He observed that most pellet burning devices are black box room heaters.
Martin Bentele of German wood pellets research institute (DEPV) and Christian Rakos of Austria Pro Pellets made reports on their countries. Both German and Austria are large wood pellet producers. German produce 2.3 million tons of wood pellets and consume 2.2 million ton, while Austria produce 1.3 million ton and consume 1 million ton. They both adopt highly automatic wood pellet boiler system rather than common pellet stoves.
The Europe Pellet Conference is a window to learn about the latest biomass policies and their influence on the future business, new technologies, and global wood pellet market. The conference has over 500 attendants, and provides a communication platform for wood pellets practitioners, researchers, and customers.
Get In Touch
We receive enquiries in English, Español (Spanish), Русский язык (Russian), Français (French) and العربية (Arabic). Our professional team will reply to you within one business day. Please feel free to contact us!