Wood Pellet Fuel in New Zealand | Biomass Fuel Bioenergy
Wood Pellet Production in New Zealand
The wood pellet market in New Zealand is continually growing with the number of producers and retailers increasing year on year. New Zealand is well placed, given its experience in processing wood resources to meet growing demand nationally and internationally. New Zealand has large quantities of wood fiber that can be utilized for the production of wood pellets. Currently feedstock for pellet production comes from wood processing residues ( sawdust, shavings, chips ). Use within New Zealand is predominantly in the residential heating sector and in the small commercial sector. With the current number of wood pellet producers, New Zealand is entering a phase where there is adequate number of producers who can potentially supply the current demand for wood pellets at competitive prices for pellets. New Zealand would probably become a small player in the wood pellets production realms in Europe.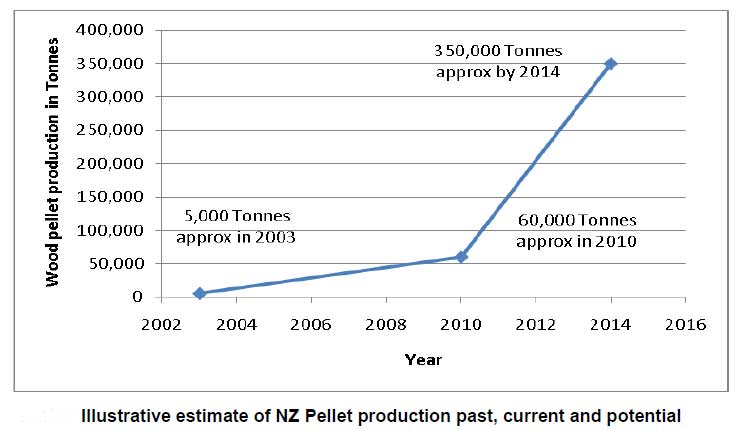 New Zealand's largest wood pellet fuel plant was opened in 2010, producing up to 40,000 tonnes a year of the clean-burning, low-carbon fuel with a substantial proportion of its output exported. This wood pellet pant was built by Solid Energy business, Nature's Flame. The plant successfully finished its first major shipment – 6,500 tonnes destined for European power plants at the Port of Napier for loading in March, 2010. Wood pellets made in New Zealand are mainly exported to Europe and Asia, and New Zealand has huge potential to expand its overseas market.
Wood Pellet Energy Use in New Zealand
Biomass as an energy source can reduce the use of and dependence on fossil fuels in heating and transportation in New Zealand. Increasing use of bioenergy is good for the economy, particularly in rural New Zealand, providing economic growth through improved land use, new businesses and employment that will strengthen rural communities, which will contribute to a cleaner environment, a stronger economy and more employment.
More than 10 percent of New Zealand's energy currently comes from bioenergy. It is estimated bioenergy could supply 25 percent of New Zealand's energy needs by 2040, including 30 percent of our transport fuel. Bioenergy has the potential to add revenue of $6 billion per year to the country's economy.
In New Zealand, the popularity of wood pellets continues to grow slowly. Wood pellets are mainly for residential use and commercial scale use. It's estimated that there are around 10,000 pellet fires installed in residential applications in New Zealand. It's further estimated that 8,000 of these are in the Canterbury Region. However, New Zealand has a limited market for residential central heating because of previous house design however as heating design becomes more common a consideration for new homes there can be an increase in demand for wood pellets for use in central heating systems. For the commercial scale use of wood pellets, more than 40 schools have converted to using wood pellet fuel in existing or replacement for coal boilers sized up to about 1MW. Some other Government facilities have also provided good leadership in converting existing coal, diesel or gas plant to use wood pellets for heating. However, torrefied wood pellets are not commercially available in New Zealand.
Now you have known about wood pellets in New Zealand, below is the detailed information about wood pellets and wood pellet fuel that you maybe also interested in.

Wood Pellets
As biofuel energy, wood pellet is a common kind of biomass pellets. Wood pellets are actually wood particles (e.g., wood shavings and sawdust) compressed into small cylindrical pellets. They are usually made from wood waste, including sawdust, shavings, and wood chips, which are byproducts of the manufacture of lumber, furniture, and other forest products.
Wood pellets are under high pressure when compressed through the small holes in the wood pellet mill. Wood pelletizer applys pressure to force the raw materials through holes that shape the pellets. Pressure and friction are used to increase the temperature of the wood, which in turn allows the lignum to soften and the wood fibers to be reshaped into pellets. And the woods natural lignin is the binding agent that holds the pellets together. Wood pellets are denser than wood chip and have very good handling characteristics. They can be made from a wide range of sources of biomass with the result that pellets made from different feedstocks will have different energy densities and other characteristics.
Wood Pellet Fuel
Wood pellet fuel has very low ash and Sulphur content, thus having less pollution on environment. With its minimal carbon footprint, wood pellet fuel is in an increasing demand all over the world as a common home-heating fuel, for fueling heat plant like boilers and from electricity generators where it is used as a fuel to help reduce emissions from their thermal plants.
Wood Pellet Fuel Usage
Wood pellet fuel is a clean tech fuel and easy to handle, store and use. Wood pellets as a common and economical fuel are suitable for both residential and commercial users, offering an ideal heating solution. In residential applications, wood pellets can be used in the pellet stove and insert fireplace for heating and cooking. Moreover, wood pellet fueled boilers produce hot water for central heating systems and for domestic hot water. For commercial and institutional applications, existing coal fueled boilers can be converted to run on pellets, although higher performance is usually achieved from installation of new purpose built and fuel specific equipment. Besides, with specific fuel storage and handling facilities, wood pellets can be co-fired with coal in large heat plant, say for electricity generation.
The following table is a comparison of the relative benefits of wood chips, ordinary wood pellets and torrefied ( TOP ) pellets. Torrefaction has the potential, at least in theory, to further expand international market opportunities. Here, you maybe also interested in the torrefied wood pellets. The torrefacation process results in pellets of a higher density and better grindability compared to conventional wood pellets.
| Items | Wood Chips | Wood Pellets | TOP Pellets |
| --- | --- | --- | --- |
| Moisture Content (%) | 35 | 10 | 3 |
| Calorific Value (MJ/kg) | 10.5 | 16 | 21 |
| Bulk Density (kg/m3) | 550 | 600 | 800 |
| Hygroscopic Nature | Wets | Wets | Hydrophobic |
| Energy Bulk Density (GJ/m3) | 5.8 | 9 | 16.7 |
| Behaviour in Storage | Can be stored outside | Requires dry storage | Can be stored in damp conditions |
Get In Touch
We receive enquiries in English, Español (Spanish), Русский язык (Russian), Français (French) and العربية (Arabic). Our professional team will reply to you within one business day. Please feel free to contact us!