Wood Pellet Fuel in America | Wood Pellets Mill Plant in US
Pellet fuels are a low carbon fuel that can reduce greenhouse gas emissions (such as CO2) when used to displace fossil fuels such as heating oil, natural gas, or propane. Pellet fuel is also a clean-burning and renewable home heating alternative currently used throughout North America. It is made of biomass materials, usually recycled wood waste. And wood pellet is the most common pellet fuel. Wood pellet fuel is a clean and efficient way to heat your home, and it is also a vital part of the energy mix. Wood pellets fuel is good for environment and carbon beneficial when compared to fossil fuels. Foresters and producers work together to maximize the benefits to U.S. forests while ensuring that emissions remain low during sourcing, production and transport. Making wood pellets fuel is an economical way by helping to divert millions of tons of waste from landfills and turn it into energy. There are many outstanding advantages of using wood pellets:
Using wood pellets reduces our dependence on the traditional fuel like oil and gas.
The cost of wood pellet fuel is not dictated by world events, so its cost is relatively affordable.
Pellet fuel has been proven to provide the cleanest burn of any solid fuel.
Wood Pellet Fuel in the USA
Nowadays, biomass fuel covers over 4% of the total energy use in the United States. There are about 1,000,000 homes in the U.S. using wood pellets for heat, in freestanding stoves, fireplace inserts, furnaces and boilers. Wood pellets as fuel for heating can also be found in large-scale environments such as schools, universities, industrial boilers and power plants in America. Wood pellets are available for purchase at stove dealers, nurseries, building supply stores, feed and garden supply stores, and some discount merchandisers.
The current U.S. demand for residential wood pellets is about 2 million tons a year, which equates to a ratio of about 60% of production capacity consumed domestically in 40-pound bags and the remaining 40 percent exported, according to Rob Davis, Forest Energy Systems and former president of the Pellet Fuels Institute. Generally speaking, wood pellets are usually packaged in 10 pound bags and sold by the bag or by the ton (50 bags on a shipping pallet). Some wood pellet mills offer 20 pound bags for easier handling.
Wood Pellets Production & Consumption in America
Wood pellet has been used as heating fuel for over 30 years in the much colder New England State and the Pacific Northwest. In recent years, wood pellets have also become popular in the southeastern United States, mainly because of the following reasons: the soaring price of liquid propane, petroleum, coal and natural gas boost sales of both wood pellets and pellet burning appliances. Continued higher oil prices are responsible for the growth of pellets sales as private home owners in the New England States look for a more economical way to heat their homes. And GEMCO has exported many wood pellet mills both for residential use and commercial uses to the USA. America is also a large wood pellet fuel manufacturer, and it exports large volume of wood pellets to the United Kingdom and other European countries. Below is the wood pellets exports chart of United States according to the FAS Global Agricultural Trade System.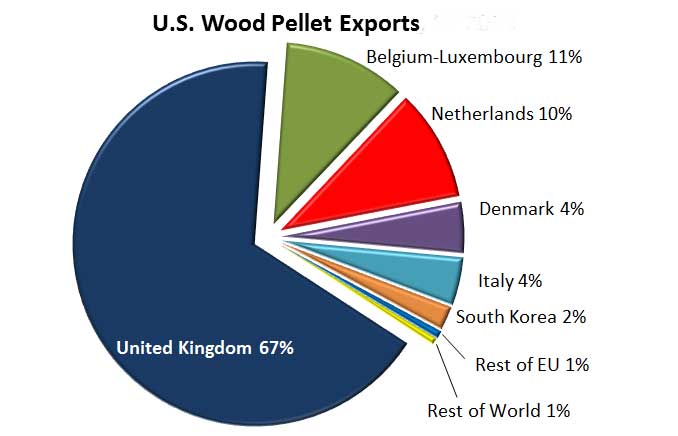 Wood Pellet Fuel's Quality Standards
In 2015, the EPA regulates the performance of both pellet stoves and pellet fuels. This means more consistent, reliable and high quality fuel pellets in bags with the new PFI graded quality mark, but not all pellets currently offered for sale will qualify. Burning non-PFI grade pellets may void the warranty in many stoves. Therefore, you'd better know the PFI pellet fuel standards well.
In 1995 the Pellet Fuels Institute (PFI) established national standards for residential pellet fuel (residential pellet fuel standard). This standard is only an unofficial non-binding recommendation. Fuel quality certification is the responsibility of the pellet manufacturer. Two fuel grades have been defined, premium grade pellet and standard grade pellet.
Standard grade pellet fuel (up to 3% ash content) is usually derived from materials which result in more residual ash, such as sawdust containing tree bark (which contains more impurities) or agricultural residues like nut hulls. Standard pellets should only be used in stoves designated for their use.
Premium grade pellet fuel (less than 1% ash content) is usually produced from hardwood or softwood sawdust containing no tree bark. This means a hotter, more efficient burn, which also means less wood pellets burned, fewer wood pellets purchased, less space needed for storage, fewer trips to the wood pellet hopper and less waste to clean up. Ash content determines fuel grade because of its role in maintenance frequency. It is the prime factor that determines maintenance frequency of ash removal from the appliance and venting system. Fuel grade and specific ash content within a fuel grade are still to be considered, but advances in pellet stove technology are making fuel choice wider and easier. The size of the ash drawer, fuel feed and grate design, proper venting, correct operation and maintenance all play a part in maintenance frequency.
| | Diameter | Length | Density | Ash Content | Fines(passing through an 1/8" screen) | Chlorides |
| --- | --- | --- | --- | --- | --- | --- |
| Premium Pellet | 6-8mm | ≤38mm | ≥640kg/m³(40ibs/ft ³) | <1% | <0.5% of weight | <300 part per million |
| Standard Pellet | 6-8mm | ≤38mm | ≥640kg/m³(40ibs/ft ³) | <3% | <0.5% of weight | <300 part per million |
For the final pellet fuel that is ready for selling or using, slight variations even from bag to bag are inevitable, but the differences are usually insignificant and much smaller than found in the original raw material before processing. Therefore, you can count on these pellets up to PFI standards.
Kindly Notice: As bags of pellets stack and store easily, you can save money by taking advantage of lower off season prices and ensure their winter fuel supply by buying early.
Wood Pellet Mills & Wood Pellet Plants in America
There are lots of wood pellet mills and wood pellet plants across the United States, and most of them take pride in the quality and craftmanship that they put in to making their premium-grade wood pellets and standards wood pellets. Traditionally, North American pellet plants were situated along side or near a sawmill for using fiber residues in the production of residential grade pellets. Below are some of the well-known brands of wood pellet manufacturers:
America Wood Green Circle Bio Energy Inc., is a renewable energy company in Florida. This company produces about 500,000 tonnes of wood pellets, and it is targeted mainly for export to European Union.
New England Wood Pellet is the oldest and largest pellet manufacturer in the Northeastern United States. It is dedicated into making not only just the best performing wood pellets in America, but also the most trusted.
Lignetics wood pellets are made from recycled, renewable sawmill waste, and they are also up to premium grade. Its premium wood pellets produce a consistent, high BTU output and produce less than one percent ash.
The markets of residential stove and industrial boiler are expected to continue grow along with advances in clean technology, awareness and consumer desire for alternatives and cost savings. Current prices of natural gas and oil place wood pellet fuel at best competing domestically against fuel oil, propane or electricity, thus making the Northeast America the most promising regional market. Therefore, manufacturing wood pellets is highly beneficial and worthy. If you also want to be a manufacturer of wood pellet fuel, you can count on us for help from zero to the end. We are expecting to hear from you!
Get In Touch
We receive enquiries in English, Español (Spanish), Русский язык (Russian), Français (French) and العربية (Arabic). Our professional team will reply to you within one business day. Please feel free to contact us!