Get to Know How Wood Pellet Maker Machine Makes Quality Wood Pellets
Wood pellets are usually made from dry, untreated, industrial wood waste such as sawdust, shavings or ground wood chips, by wood pellet maker machine. Wood pellet maker, also called wood pellet mill, is a pellet making machine specially designed to make wood pellets.
Generally speaking, wood pellet maker can be divided into the residential wood pellet machine and commercial wood pellet mill, so does GEMCO wood pellet machine. Generally speaking, wood pellet maker can be divided into the residential wood pellet machine and commercial wood pellet mill, so does GEMCO wood pellet machine.
Small Wood Pellet Mill for Sale
Making pellet with wood pellets machine for home use is easy. After collect your woody biomass, chop them into small size that is smaller than the holes in the flat die of the wood pellet making machine. Then feed these woody powders into the small wood pelletizer, and the woody material is compressed into small cylindrical under strong pressure and high temperature. Then, you will get your desired wood pellets for your own use. GEMCO's small wood pellet mills for sale have won good reputation worldwide, and you can count on them, too.
Wood Pellets Production in Wood Pellet Plant
For the commercial wood pellet mills for sale, they are usually used in wood pellet plants. Because woody material's density is higher than that of other common biomasses, wood pellet mill usually can make pellets from a wide range of biomass raw materials like agricultural residues. The pellets manufacturing process is determined by the raw material but usually includes the following steps: treatment of raw material, screening, grinding, drying, pelletizing, cooling, sifting, and packaging. Now comes the question: how to make wood pellets? Below are the detailed steps of manufacturing wood pellets for large scale production.
Grinding Woody Raw Material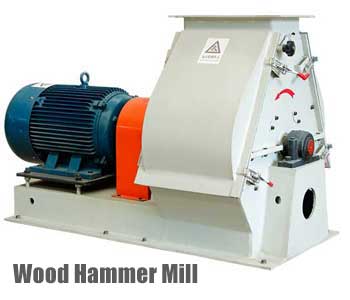 Before pelletizing, it is important to make sure that the woody material is dry and homogeneous. This process is also known as milling, crushing, pulverizing or comminution. In this grinding process, first of all, raw material should be filtered before grinding to remove materials like stone or metal. If the particle of raw material is too big, wood pellet's quality decreases or even worse you cannot get wood pellets, as the particle's size is too big to be pressed into the holes in the die. However, it should also be noticed that raw material can be ground too fine, causing the material to lose its 'fibre' nature and thus not bind in the pelleting stage. Therefore, a large wood hammer mill is necessary in the grinding process for pulverizing.
Drying Woody Raw Material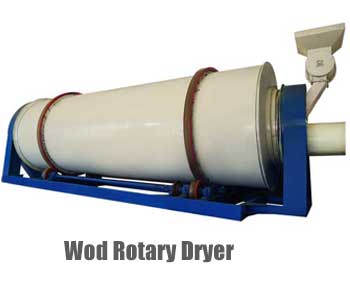 Rotary dryer is used to dry woody particles to guarantee that the moisture content is 8-10%. Drum driers are the most common type of equipment used in North America. In the past, natural gas was the most common fuel source. However, with a rise in fossil fuel costs, many producers have been switching to waste wood. In contrast to using natural gas, waste wood is cheaper and provides the opportunity to market environmental benefits associated with green house gas (GHG) emissions. These environmental benefits can be important when selling to markets with significant environmental regulations like the European market. Generally, wood fibre can be pelletized at moisture as high as 17%. However, the optimal level is 12% or less. Raw woody materials can also be too dry to pelletize, so you need to find the right balance between high and low moisture content.
Notice: It doesn't matter what order these pre-pelletizing steps of drying and grinding happen in, as long as you make sure that the woody raw materials are properly dry and uniform in size.
Pelletizing to Make Wood Pellets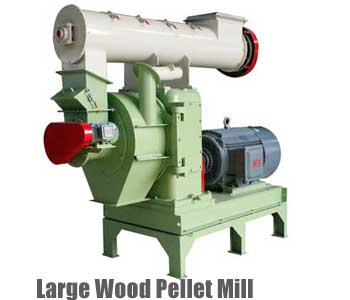 Wood pelletizing machine, also known as wood pelletizer and wood pellet extruder. In wood pellet plant, ring die wood pellet maker is used to make wood pellets. The name ring die (also called rotary die) comes from the fact that the two (or more sometimes) rotary rollers push raw woody material from inside a ring die to the outside where it can be cut into the desired same length. Depending on the material being palletized, a delicate refining and balancing of settings is necessary. The most important adjustments are made by changing the die. A die is essentially a metal plate with holes in it. A die works by providing the appropriate amount of resistance as the press wheel attempts to push the raw material through the holes in the plate. The appropriate amount of resistance allows the raw material to heat up and soften so that it can be reshaped and compacted into the desired shape. (Notice: If a die provides too much resistance the material being palletized can become scorched. If too little resistance is provided, the raw material will not be compressed and simply pass through the holes.)
In pelletizing process, the woody particles are compressed into the holes of the wood pellet maker machine's ring die, which determines the diameter of the final wood pellets. While pelleting, because of strong pressure and high temperature, the wood's lignin and resin act as natural binding agents and no additional additives are required. (Kindly Notice: however, when making hardwood pellets like willow chip, expensive additives such as starch may be required in pelletizing process, because hardwoods have lower rate of ligin.)
Wood Pellet Cooling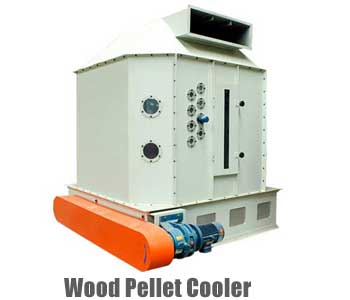 Cooling is critical to pellet's strength and durability. As wood pellets leave pellet extruder, they are hot and soft. And these wood pellets are gradually air cooled, which allows the lignin to solidify and strengthen the pellets. In contrast to the drying process, cooling does not involve the addition of energy. Wood pellet cooler supplied by GEMCO is also reliable. This pellet cooling machine is counter flow designed and cools pellets rationally, and it can avoid the cracking or breaking of wood pellets. The wood pellet cooler includes 1200*1400 grid, has a dwell time of approximately 10-15 minutes, and has a rotary airlock installed on the top of the machine. Cool air flows from bottom to top, while the pellets drop from top to bottom, in this way, the pellets are cooled completely.
Sifting Wood Pellets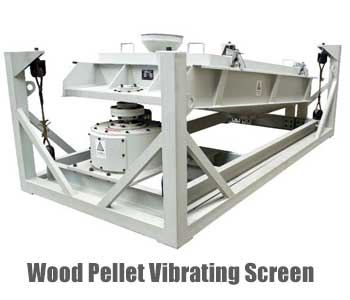 After cooling, wood pellets are passed over a wood vibrating screen to remove any fine material. These "fines" are augured back into the palletizing process to ensure that no raw material is wasted. Sifting, also called screening or sieving, ensures that the fuel source is clean and as near to dust free as possible. Once screened, wood pellets are ready to be packaged for the desired end use. GEMCO wood pellet vibrating screen has been widely used in wood pellet plant and played a key role in ensuring the quality of final wood pellets. GEMCO pellet sifters include single-layer sieve, two-layer sieve and three-layer sieve. You can choose the most suitable pellet sifter according to your specific requirements.
Wood Pellet Packaging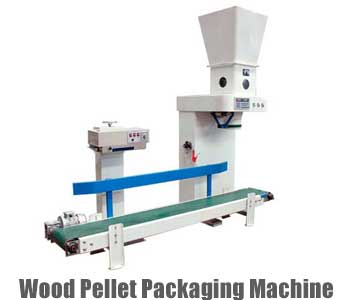 Pellets can be distributed in bulk form, by track, rail or ship or bagged in smaller quantities. If they are packed in bags, a wood pellet packaging machine is indispensable. Wood pellets do not degrade over time, as long as they are stored in dry conditions. Therefore, it's better to pack them in bags that isolate moisture and air.
Now good wood pellets are already made, and you can either use them as fuel or for animal beddings, or just sell them in wood pellets market.



GEMCO has successfully set up many wood pellet plants in different countries, such as: 32 ton/h wood pellet production line in Vietnam, 2.5 ton/h wood pellet plant in Sweden, and 1 ton/h wood pellets line in UK, etc. All of these pellet lines are in good performance ever since they are established and they have brought large benefits for our customers. You can also count on us for turn-key wood pellet projects.
Wood Pellet Fuel Background
Wood pellet is primarily manufactured from wood waste, including sawdust, shavings, and wood chips, which are byproducts of the manufacture of lumber, furniture, and other forest products.
Wood pellet has shown up in the 1970s in North America as an alternative furl to help resolve the energy crisis. In 1983, the first residential wood pellet stoves were sold to consumers, so the residential wood pellet industry was created. The European wood pellet plant began later led by the Swedish at the beginning of the 1980s. As for the rest of the world, the wood pellet market remains limited in spite of an undeniable large potential in Brazil, Argentina, Chile and New Zealand. Using wood pellets as fuel and energy has many outstanding advantages, such as: environmental benefits, relatively high energy density, easiness to use and economical benefits.
Get In Touch
We receive enquiries in English, Español (Spanish), Русский язык (Russian), Français (French) and العربية (Arabic). Our professional team will reply to you within one business day. Please feel free to contact us!