Wood pellet demand rises in Korea and Japan
Wood pellet demand rises in Korea and Japan
In the past few years, Korea and Japan's wood pellet import grows rapidly. In 2017, Korea imported 2.4Mt wood pellets, and Japan imported over 0.5Mt.
Meanwhile, Japan and Korea's demand for biomass materials also increase. They have consumed about 4.3 million BDMT (Bone Dry Metric Tons) wood chips in 2017, with most from local, and 1.5Mt palm kernel shells(PKS). As they provide subsidies for locally sources biomass materials, the consumption will keep growing.
Korea biomass power plant and wood pellet consumption
In Korea, the government approved the modification of Renewable Portfolio Standard, which increased the subsidy for local biomass power plant. The power plant who use domestic biomass materials can obtain 1.5-2.0REC/MWh additional weight. By contrast, the subsidy for imported fuels will decreases from 1.5REC/MWh to 1.0REC/MWh by 2019.
These changes bring out new specialized biomass projects in Korea. Recently, 3 new projects got the green light.
S1 biomass factory, own by SMG Energy, is a 100MW projects in Gunsan, Korea. It is launched in July 6 by cooperation partners of SMG Energy, E-Tech Construction, and SK Construction. After the commissioning in 2020 and 2021, it will consume 0.4 million tons of wood pellets every year.
CGN's 109MW biomass plant in Daesan has realize the balance of payment in June, 2018. From the fourth quarter of 2020, it will consume 0.4 Mt wood pellets every year, with 31.5Mt provided by Canada manufacturer Pinnacle.
GS EPS has claimed it is processing the second 105MW biomass power plant project Dangjin 2. It will go into operation in 2011, and will consume 0.2 Mt wood chips and 0.3 Mt wood pellets every year.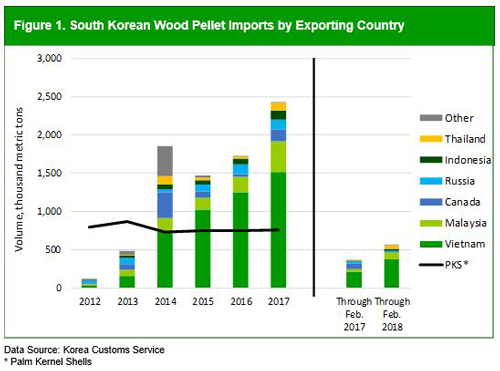 Japan biomass power plant and wood pellet consumption
In Japan, the FiT (feed-in tariff) subsidize 32 yen/KWh for power generated by local forest wastes, and 40 yen/KWh for power plants with the capacity over 2MW. By contrast, the subsidy for imported biomass power generation is 21 yen/KWh.
Under this condition, Japan's biomass power projects grows up rapidly. Some of them have achieved financial settlement.
Air Water & Energia Power Onahama Corporation is constructing a 75MW projects. It is expected to go in operation in the first half year of 2021. This biomass power plant will adopt wood pellets and PKS(palm kernel shell) as fuels.
Biopower Kanda Goudou Gaisha, the subsidiary of Kansai Electric Power Company, plant to build a 75MW biomass power plant. It mainly adopts wood pellets as fuel, supplied by French Utility Engie and Japan mitsui trading co. based on a 15 years' contract. This contact will go into effect in 2021, when the power plant will start to operate.
Renova, Sumitomo Forestry, Veolia, Kyuden Mirai Energy, and Mihara Group have jointly developed a 75MW Shentian biomass energy project. This biomass power plant will go into operation in June, 2021, adopting wood pellets, palm kernel shell, and local forestry wastes. The wood pellets will be supplied by Toyota Tsusho and Pinnacle for 170,000t/year.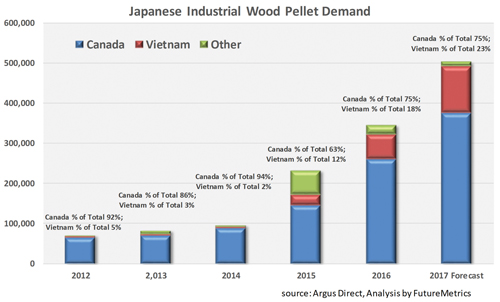 Asia's future wood pellet and biomass material consumption
These biomass power plant projects will increase the demand for wood pellets to a great extend. According to the statistics of first half year of 2018, Asia's industrial wood pellet consumption will reach up to 4.9 Mt in 2018, 49% higher than 2017. Its demand for wood chips and sawdust will also rise up.
As the governments encourage local sourced biomass materials, there will be more wood pellet manufacturers emerges, and the biomass power plants may make wood pellets with local biomass materials on their own. These trends will boost the demand for biomass pellet machines. GEMCO is an experienced biomass pellet mill and wood pellet plant manufacturer and supplier in China. If you have demand or any questions, please leave us a message below↓↓↓
Get In Touch
We receive enquiries in English, Español (Spanish), Русский язык (Russian), Français (French) and العربية (Arabic). Our professional team will reply to you within one business day. Please feel free to contact us!