how to make wood pellets
Wood pellets are made by compressing dry sawdust or wood shreds or other wooden materials under high pressure until the lignin softens and binds the material together in wood pellets making machine, also called wood pellet mill, pellet press, pellet maker, or pelletizer.
The combination of low moisture content (typically below 10%) and highly compressed wooden material gives pellets a high volume energy density, usually three to four times that of wood chips. They are also clean, consistent and flow easily, making them particularly attractive in domestic applications. Besides, wood pellets' obviously lower storage requirements compared with wood chips also make them attractive to urban applications such as schools. Pellets for domestic and small scale applications are typically 6-8 mm diameter, while those for industrial applications may be 10-12 mm.
Wood pellet is a kind of the most common biomass pellets. Biomass pellets, especially wood pellets have wider and wider application nowadays, mainly because they are green, economical, sustainable energy. And they don't release harmful gases as much as the traditional fuel (usually refers to oil and natural gas) does. Wood pellets have especially wide application in European countries, United Kingdom, North America, Canada and Australia, etc. You may want to know more about the reasons that why make biomass pellets. Now the question comes, how to make biomass pellets? As wood pellets are the most commonly used, so you may wonder how are wood pellets made?
Make Wood Pellets at Home
How to make your own wood pellets?
For home and individual use, making wood pellets is much easier. A household pellet mill is usually enough. GEMCO household pellet mill has 4 driving forces: electric engine, gasoline engine, diesel engine and PTO. You can choose one according to your favor of the driving force.
First of all, you should make the raw wooden materials well-prepared, which mainly means the size and moisture content of the raw material should be proper. You can take any wooden material at hand as the raw material for making wood pellets, and they can be tree branches, wood chips, and sawdust, etc. If the size of these materials is small enough, which means they look like small powders. However, st this point, usually only sawdust doesn't need crushing. For other big size materials, you need to try to crush them. You can pulverize them by hand or use any simple euipment. But, here you need to know that a hammer mill is a very good choice and can save you so much hard work. You may want to know more about hammer mill for home use. Here GEMCO small hammer mill is a good choice for you to pulverize wooden raw materials at home.
After the wooden raw materials are crushed into the small suitable size, you need to make sure that they have proper moisture contemt. You may need to dry them in the sun or increase some water or moisture. Then mix the raw materials evenly for later being pelletized.
Then put these well-prepared raw materials into the feeder of the small wood pellet press. These materials will directly fall down to the area between the rollers and the die. Here you need to know the small pellet mill is usually flat-die designed, which means hen making pellets, the rollers are stationary while the flat die rotates or the other way around. At the same time, the rollers compress these materials into the small holes in the flat die to form pellets. Under high temperature and large pressure in the pellet mill, the lignin will be released as binder of these wooden materials. Then a series of knives will cut these wood pellets into the same length once they are emerged on on the other side of the flat die. Finally, the wood pellets will be thrown out of the small pellet mill. You can collect them after a while , as their temperature is usually high the moment they leave the machine. ( Below is the pictures of structures of two kinds of roller and flat die in small pellet mill )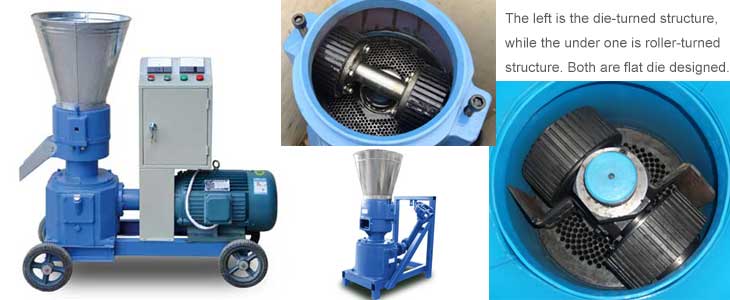 Make Wood Pellets in Industry
If you want to invest in wood pellets business, you should first decide what wood pellets output capacity you need, and then find the most suitable wood pellets making like. One thing you should know, except the capacity, you should also consider the space you reserve for the wood pellet line. If your needed pellets output capacity and machinery's space is not large enough, you can choose the mobile wood pellet plant or moveable sawdust pellet plant. As a matter of fact, both of the two mobile pellet plant can make wood pellets, sawdust pellets and other biomass pellets.
If your reserved space is large enough, you can establish the whole wood pellet production line. The wood pellet line usually contains crushing , drying, transporting, pelletizing, sifting, cooling, weighing and packaging. Necessary machines in wood pellet line usually include: hammer millor wood chipper for crushing, wood chips rotary dryer for drying raw material, bucket elevator or screw conveyor for transporting both raw material and wood pellets, wood pellets making machine for industry for making wood pellets, wood pellets vibrating screener for sifiting final pellets from their debris, wood pellet cooler to cool pellets, and wood pellets packaging machine for packing pellets.
In all the processes of making wood pellets in industry, pelletizing is the most important part. You probably want to know how industrial pellet mill make wood pellets the most. The large capacity wood pellet mill in industry mainly works as follows:
Industrial wood pellet mill is ring die designed and has large pellets output capacity. Its die is vertical and looks just like a ring. After the well-prepared raw materials are transported into the feeder of the ring die pelletizer, the ring die and the rollers rotate at the same time. The rollers press the raw material into the holes in the ring die. A series of knives cut the emerged wood pellets into the uniform length. Under the centrifugal force, wood pellets are thrown out, usually onto the vibrating screen to separate from their debris. The debris is collected as raw material for making wood pellets again, while the good wood pellets are then transported onto the belt conveyor for later being cooled and packaged. Thus you will get large scale wood pellets for commercial purpose and business.
Get In Touch
We receive enquiries in English, Español (Spanish), Русский язык (Russian), Français (French) and العربية (Arabic). Our professional team will reply to you within one business day. Please feel free to contact us!