How are wood pellets made in wood pellet plant?
The raw materials for making pellets is abundant, such as wood scraps, waste papers, crop straw, alfalfa, corncob, grass, household garbage, forestry and agriculture waste. In this passage, I mainly introduce the process to make wood pellets. Pellets made of other materials have similar processes.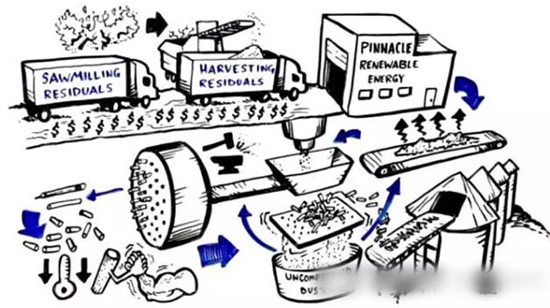 How are wood pellets made?
To be general, the wood materials were first crushed into sawdust, then they are fed into the wood pellet mill. The raw materials are extruded out through the holes on die, and molded into high-density wood pellets.
The heat generated by the compression and friction in the pellet mill will melt the lignin in wood materials. After the wood pellets pass through the die, they will cool down gradually. When the lignin cools down, it will glue the sawdust and forms hard and solid pellets.
Most wood pellets are made in large wood pellet factory. But in recent years, small-scale wood pellet factory becomes more and more popular with domestic consumers and small-scale companies. Some farmers and personal users have bought their own wood pellet mill and produce pellets for themselves.

Production process of wood pellets
Raw material crushing
The raw materials for making wood pellets should be small enough to be fed into the die. If the size of raw materials is larger than 1 inch, they need to be crushed to reduce the size by a hammer mill or a wood chipper. A hammer mill can reduce the size of 10-30mm to 3-5mm. If the raw materials is fine enough like sawdust, they don't need this step.

Raw material transmission
In small scale production, you can collect the crushed raw materials by hands and feed them into the pellet mill. But in large scale production and wood pellet production line, they need to be transmitted by a screw conveyor or a belt conveyor. They are used to connect different equipment in the pellet production line. An automatic conveyor can achieve stable transmission speed and avoid raw material stacking.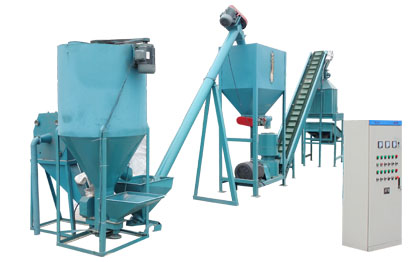 Raw material drying
Before making wood pellets, we should make sure the raw materials are dry. The moisture content of raw materials should be between 10% and 20%. If the raw materials are too dry, they will be hard to form. If the moisture content is too high, the wood pellets will be loose.
You can place the raw materials in open air and let the wind dry them naturally. But in wood pellet plants, they use airflow dryer and drum dryer to dry them quickly.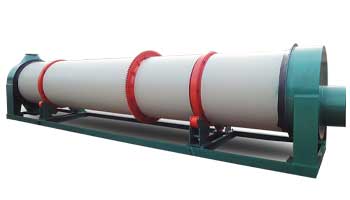 Raw materials mixing
To make high quality wood pellets, the raw materials should be homogeneous. In another word, they should have similar size, hardness, moisture, and density. Raw materials of different moisture and density should not mix up. To avoid this condition, we'd better use the same kind of materials to make pellets, and pre-treat them with the same steps and equipment. If the raw materials have different properties, you should put them in the mixing feeder, which are usually a rotary drum or a blender.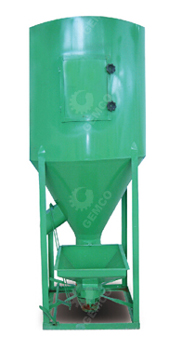 Raw materials adjusting
The raw materials to make wood pellets should have enough natural lignin the glue the fibers. Some raw materials like rice husks cannot take shape by themselves. They need to be added with binders or other materials.
If the raw materials are too dry, you can spray water on them, or mix them with materials of high moisture content.
Some raw materials need to be pre-heated to increase their adhesive force and plasticity. Generally, the dryer machine can heat up the raw materials. But in large wood pellet plant, the raw materials are heat up by dry steams.
Wood pellet production
This is the core process of making pellets. The wood pellet machine has 2 types, ring die and flat die pellet machine.
In flat die pellet machine, the roller is installed on the flat die. It rotates and press the raw materials into the holes on flat die, where the raw materials are molded into solid and cylindrical pellets. A slicer under the flat die cut the wood pellets into certain length.
In ring die pellet machine, the roller is installed inside the ring die. It exerts pressure outward and squeeze the raw materials into the holes on the ring die.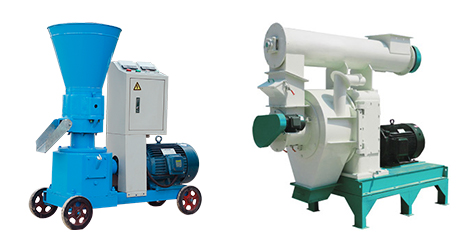 Wood pellet sieving
Not all produced pellets are qualified. Some pellets have broken into pieces, which must be sieved out. Besides, sieving is also used to separate different sizes of pellets.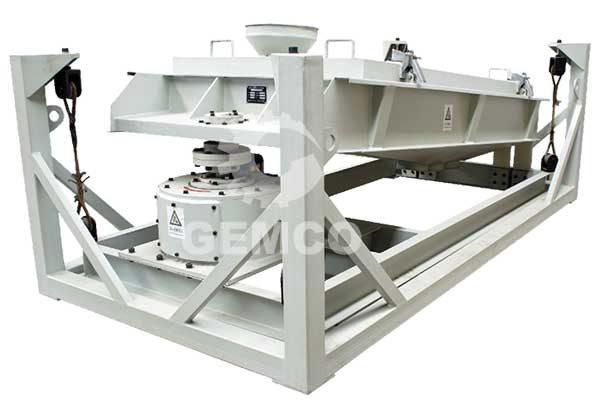 Wood pellet cooling
When the wood pellets just come out from the pellet machine, they are hot and may have steam. You can put them in open air and wait them to cool down. Or use a wind blower or a fan to speed up the cooling process. In large wood pellet plant, they use counter-flow cooler to cool down the wood pellets. Cooling can increase the hardness of wood pellets. But don't dry them too fast, or there may be some cracks on the wood pellets.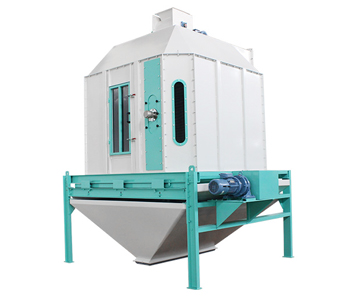 Wood pellet transmission
After the wood pellets cool down, they will be transmitted to the pellet packing machine. Screw conveyor is not suitable for transmitting wood pellets because they are possibly to damage the pellets. We usually use bucket elevator to convey pellets.
Wood pellet packing
Up to this step, the wood pellets have been produced and ready for use. But the wood pellets are usually packaged in bags, and storage for later use or transported to the market place. The pellet packing machine is used to packing particle materials into bags, you can adjust the bag size according to your needs. You'd better use water-proof bags. They can prevent the wood pellets from getting damp. Also, large quantities of wood pellets can be stored in large silos and sold to customers in bulks.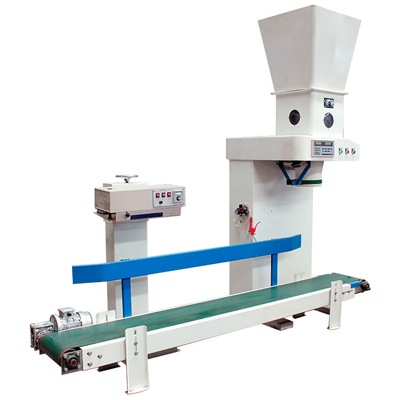 Not all the processes above are necessary. Crushing, drying are necessary for most materials, but mixing and adjusting are not. Meanwhile, the produce pellets can be used directly. If you produce wood pellet not for sale, you don't need a specialized cooling machine or packing machine.
Get In Touch
We receive enquiries in English, Español (Spanish), Русский язык (Russian), Français (French) and العربية (Arabic). Our professional team will reply to you within one business day. Please feel free to contact us!