Future wood pellet market in Europe, Japan and Korean
Global wood pellet market grows rapidly in the past decades, driven by the increasing industrial demand.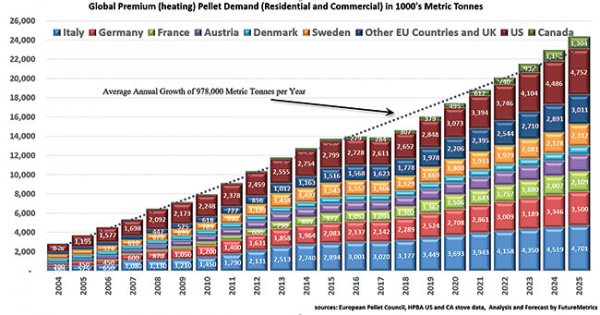 Heating pellets demands in different countries predicted by Future Metrics
Influence factors in wood pellet market
In recent years, the heating wood pellet market is impacted by the low price of fossil fuel (oil and gas) and the temperature rise in winter in North America and Europe. It is predicted by Future Metrics that the growing price of oil and the decarburization policy will boost the demand of wood pellets. The industrial wood pellet market is expected to have strong growth in the next 10 years. It is driven by the decarburization policy and the encouragement to power generation with renewable energy.
Ways to apply wood pellets in power plant
Wood pellets can take the place of coal in large public power plant. There are two ways to apply wood pellets, full conversion or co-firing. The former one requires to replace coals with wood pellets completely. It need to upgrade the feeding system and burners. Co-firing means the wood pellets and coals burns together. It only need to upgrade part of the device. If the wood pellets proportion is less than 7%, you don't need to upgrade it at all.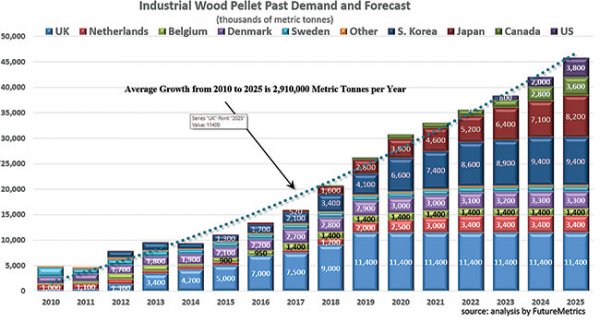 Industrial wood pellet past demand and forcast
Industrial wood pellet demand forecast
It is predicted by Future Metrics that the wood pellet demand by 2017 will be 16 million ton. By 2020, the demand in England and Europe will remain high, and there will be a strong growth in Japan and Korean.
By 2025, the large public power plant and small independent power plant in Japan, EU, England and Korean will create demand of about 24 million tons. The strongest growth will take place in Japan and Korean.
According to the database of Future Metrics, most new projects in EU and England have assigned contract with existing wood pellet manufactures. But the Japan and Korean market will provide huge opportunities for wood pellets productions.
European wood pellet market
The primary growth of industrial wood pellets take place in Western Europe, but now it slow down and will achieve a steady by 2020. The remaining growth will take place in Holland and England. It is predicted by Future Metrics that the new demand in Europe and England will be 6 million tons every year.
The demand of Holland power plant is uncertain. The coal power plant has put off the investment for co-firing upgrading until they are assured to continue to operate. If these problems can be solved, the wood pellet demand in Holland is going to grow by 2.5 million ton every year. If the 4 coal power plant with subsidy can operate as planned, the wood pellet demand growth will be 3.5 millions ton every year.
In England, the 400MW Lynemouth power plant is under upgrading, and the Teeside Greenfield cogeneration projects is under construction. They plan to upgrade the fourth generator to make it applicable for wood pellet fuel. As estimated by Future Metrics, the fourth generator set will consume 900 thousand tons of pellets every year. If they run at full capacity all through the year, the wood pellet consumption of each set will be 2.5 million ton every year.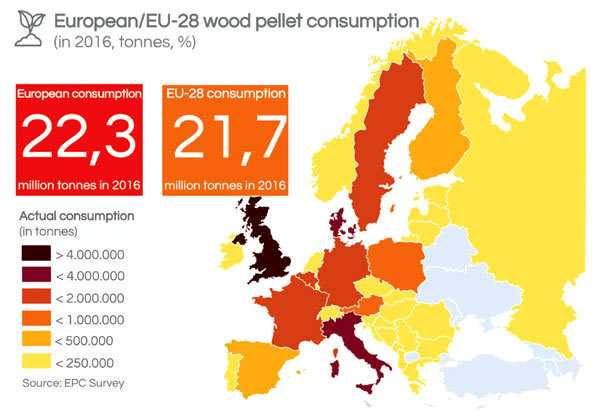 Japan wood pellet market
The demand of wood pellets is determined by 3 policies: Fixed-price support for renewable energy; thermal efficiency standard of coal; carbon emission target.
In a 20-year contract period, FiT provides the independent power producers (IPP) with a guaranteed price for the electricity generated by renewable energy. Currently, the price of electricity generated by wood materials including wood pellets, wood chips and palm kernel shell are lowered from 24yen/kwh to 21yen/kwh (equal to $ 0.214 / kWh). But it doesn't involve the independent power producers supported by FiT.
The METI draw a plan of "optimum energy structure" for the year 2030. According this plan, the biomass power generation takes up 4.1% of the domestic total power generation. It requires about 26 million tons of wood pellets.
Besides, METI published a paper on the efficiency standard of the best available technology for thermal power plants. It set a standard on the minimum efficiency of electric generator. In 2016, only 1/3 of coal power plants has met the standard in Japan. To meet this standard, there will be more power plant adopts wood pellets for co-firing.
METI allows the deduction of wood pellet cost in the co-firing. If a power plant adopts 15MWh wood pellets in the co-firing burner, the efficiency will be 35MWh /(100 MWh - 15 MWh)= 41.2%, higher than the standard.
As reported by Future Metrics, to improve the power efficiency, the power plant in Japan will increase their demand in wood pellets, palm kernel shells and wood chips. Based on the analysis of the 140 independent power plant, Future Metrics predicted that the wood pellets demand will reach up to 4.7 million tons by 2025, and the potential demand of the public and independent power plant will be more than 12 million ton.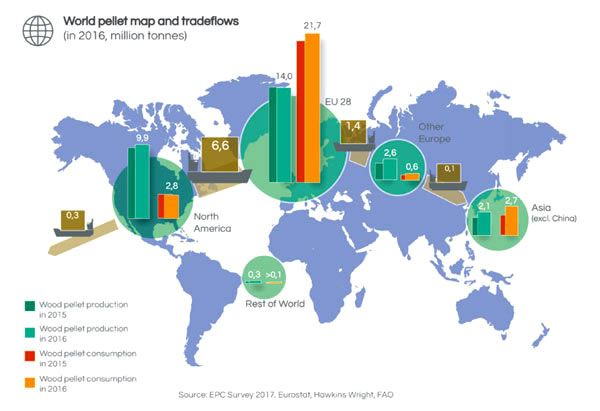 Korean wood pellet market
Korean's demand for industrial wood pellets has grown rapidly and will continue in the near future. In 2017, the wood pellet import in Korean is about 2.25 million ton.
Korean is advocating renewable portfolio standard (RPS) for the power generation industry. According to this standard, the 13 largest power plant are required to raise the renewable energy ratio from 2% in 2012 to 10% in 2024.
To achieve this standard, the power enterprises have two ways: to purchase renewable energy devices, and apply for the renewable energy certificates (REC) with the power generated by renewable energy; to purchase renewable energy project in the power market.
The power plant have to pay penalty if they cannot accumulate enough RECs required by RPS, they have to pay the fine, which is 1.5 times the average market price of REC. As the price of REC in Korean is high in recent years, this policy will stimulate the growth of renewable energy power generation.
According to data of co-firing projects, if the Price of REC is high enough to compensate for the expected cost of competition, there will be 9 million tons' growth in wood pellet demand every year in Korean. The increasing demand drives the wood pellet production in Vietnam. Vietnam has improve its capacity to produce wood pellets at low cost, which are mainly made by the scraps of wood furniture. Currently, Korean's market for wood pellets has tightened. The price of Vietnam's wood pellets has risen from $95/ton in the past six months to $133.
Conclusion
In Europe, the growth of industrial wood pellet market are expected to continue. In Japan, supported by the FiT, the wood pellet market remains in steady growth. As for Korean, due to the unstable price of RECs, the future wood pellet market is hard to predict. In a word, the new demand of industrial wood pellets will be more than 26 million tons every year by 2025.
Get In Touch
We receive enquiries in English, Español (Spanish), Русский язык (Russian), Français (French) and العربية (Arabic). Our professional team will reply to you within one business day. Please feel free to contact us!