EFB Pellet Machine | EFB Pellet Production Line
Palm Empty Fruit Bunch is called Palm EFB in short, and palm trees are distributed particularly in the Southeast Asian countries including Thailand, Indonesia and Malaysia. Malaysia is the world's second largest palm oil producer, and known well for its palm agriculture. Palm oil production is over 48 million metric tons per year. The biomass residues of palm empty fruit bunch (EFBs) like palm kernel shells and palm frond or leaves are usually made into pellets for burning or heating or BBQ, etc.
EFB Chopping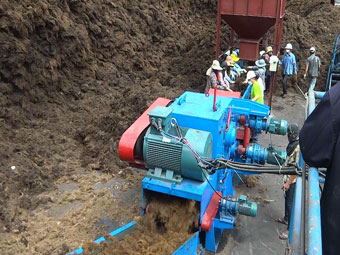 EFB Chopping Machine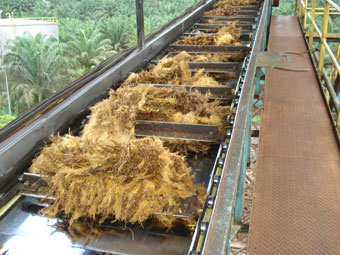 EFB Fiber Processing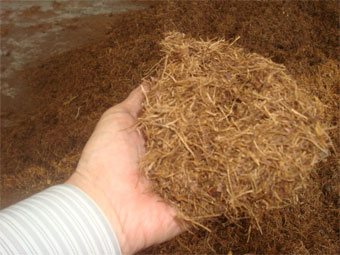 Processed EFB Fiber
The following table is comparison of oil palm in these countries.
 
Oil palm harvested area
Fresh fruit bunches
Empty fruit bunches estimated amount
*1.000 ha
% in Asia
*1.000 tonnes
% in Asia
*1.000 tonnes
Malaysia
3620
47.6
75650
51.8
5296
Indonesia
3600
47.4
64255
44
4498
Thailand
315
4.1
5250
3.6
368
China
47
0.6
675
0.5
47
Philippines
17
0.2
233
0.2
16
Asia Total
7599(60.3% of world total)
100
146063( 84.2% of world total)
100
10224( 84.2% of world total)

EFB pellets are made from shredded Palm Empty Brunches (EFB) by EFB pellet machine. There are many advantages using Palm EFB pellets:
EFB pellets have low moisture in nature: Their moisture content is from 8% to 12% while the moisture content of shredded EFB fiber is between 50% and 60%. Compared with shredded EFB fiber, the EFB pellets are easier to burn and transport. The bulk density of palm EFB pellets is more than 0.65kg/liter. The ash content of EFB pellets is from 4.5% to 5% and sulphur content from 0.12% to 0.14%. The energy released by EFB pellets ranges from 4280 kcal to 4500 kcal per kilogram.
EFB pellets have high heating efficiency and more energy: Dry EFB pellet burns thoroughly and only 5% of substance left over as ash content.
EFB pellets are easy to handle and store: EFB pellets are usually packed in jumbo bags with weight around 950kg per bag. In the standard 20ft container, we are able to pack 20 jumbo bags, which is to say to ship around 20MT of EFB pellets.
EFB pellets are suitable for most of boilers grating systems: The diameter of EFB pellets is usually from 8mm to 10mm and their length is from 20mm to 30mm. There data is also the most proper diameter for most of input gates of boilers.
EFB pellets generate little and even no smoke during its combustion: The EFB pellet normally release very little particulate into air.
Below is the SGS Test Report of Palm EFB Pellets:
ANALYSIS REPORT
One(1) sample said to be PALM EFB PELLET, contained in a polythene bag.
On analysis of the sample, the following result was obtained :-
TEST PARAMETERS
TEST METHODS
RESULTS
Total Moisture, (ARB) %
NTA 8200-BPM 4-02
8.9 (Eight decimal nine)
Ash, (DB) %
NTA 8200-BPM 4-01
5.4 (Five decimal four)
Volatile Matter, (DB) %
NTA 8200-BPM 4-04
74.5 (Seven four decimal five)
Fixed Carbon, (DB) %
BY CALCULATION
20.1 (Two zero decimal one)
Total Sulphur, (DB) %
GRAVIMETRIC
0.14 (Zero decimal one-four)
Chlorine, (DB) %
TITRIMETRIC
0.37 (Zero decimal three-seven)
Net Calorific Value, (DB) kcal/kg
BOMB CALORIMETER
4218 (Four two one eight)
Nitrogen, N(DB) %
KJEDAHL
0.74 (Zero decimal seven-four)
Note : 1)DB(Dried Basis)
2)ARB(As Received Basis)
3)NTA-BPM(Netherlands Technical Agreement-Best Practice Method)
EFB Pellet Press Machine
As an expert in the research and design of EFB pellet mill and plant, we have successfully set up many turnkey projects of EFB pellets production in Malaysia. With decades of professional experience, we know very clearly how to convert Empty Fruit Bunch into EFB pellets with maximum efficiency and utilization ratio.
Generally speaking, EFB pellet press machine can be divided into small EFB pellet press and large EFB pellet machine. However, because of the pretreatment of Empty Fruit Bunch, EFB pellet is often made by large EFB pellet machine in the EFB pellet production line.
Large EFB pellet machine is the most important equipment in the EFB pellet plant. Our EFB pellet machine used in the EFB pellet plant is ring die designed and improved from the hardwood pellet mill. We did thousands of tests and found the best ring die compression ratio for compressing EFB pellets with high quality. It has good performance in pelleting palm fiber and palm empty fruit bunch.
EFB Pellet Production Line
EFB pellet production line contains all the machinery of the EFB pellet plant. To make EFB pellets in large scale for commercial purpose, you need to finish the following 7 steps: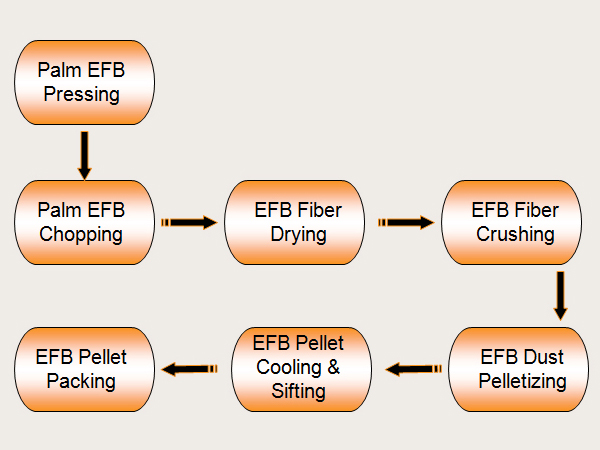 Palm EFB pressing: The moisture content of the Fresh EFB directly out from palm oil mill is reduced by the Press from approximately 70% m/c to 50% - 55% m/c. EFB is usually torn into 3-4 discrete chunks. The juice which is squeezed out contains sludge oil from which 0.2% to 0.3% OER can be recovered by transferring the juice to the Palm Oil Mill's existing Oil Recovery System.
Palm EFB chopping: EFB drum crusher is used for crushing the fresh EFB with 70% moisture into 20-30mm length fiber without squeezing the liquid out firstly. The output fiber could be easily dried and fine crushed in the following EFB pellet processing, which guarantees the high quality of the final EFB pellets products.
Palm EFB fiber drying: The single layer rotary dryer is exclusive for drying chopped EFB fiber with high moisture content. The anti blockage designed shovels lift and shower the EFB fibers are evenly through the hot air stream.
Palm EFB fiber crushing: The pulverizing room of palm EFB fiber crushing machine is wide enough to crush the EFB fiber without blockage. Well balanced rotor guarantees stable running.
Palm EFB pelletizing: EFB pellet machine has many advantages, such as: high precision, easy operation, low power consumption, high pellets output rate, little maintenance and good performance.
Palm EFB pellets cooling and sifting: pellets cooler and pellets sifter are used in this process to cool down EFB pellets to the room temperature and gather the finished good pellets for later package.
Palm EFB pellets packaging: pellets packing machine is used here to package EFB pellets into bags for transport or storage.
We have successfully set up many EFB pellet production lines abroad. Here is a 4-5 ton/h EFB pellet plant we established in Serbia.
Get In Touch
We receive enquiries in English, Español (Spanish), Русский язык (Russian), Français (French) and العربية (Arabic). Our professional team will reply to you within one business day. Please feel free to contact us!