efb pellet in malaysia
EFB Pellets
EFB pellet is made from the shredded, compressed, and pelletized Palm Empty Fruit Brunches ( EFB )by the EFB pellet mill. EFB pellet is classified as a pellet energy source such as wood pellets and sawdust pellets. Nowadays, EFB Pellet obtains reasonable high calories and being widely used as a biofuel resource around the world. Below is the picture of EFB pellets with 10mm diameter.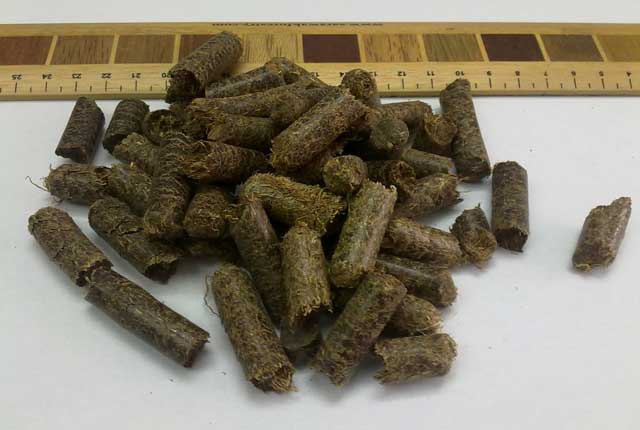 EFB Pellet's Specifications
Moisture < 12%
Ash Content = 5%
Volatile Material = 75%
Carbon Content = 13%
Heat Energy = 4000 kcal/kg
How to Make EFB Pellets?
To make EFB pellets, you need the following necessary processes, like the flow chart shown on the picture below: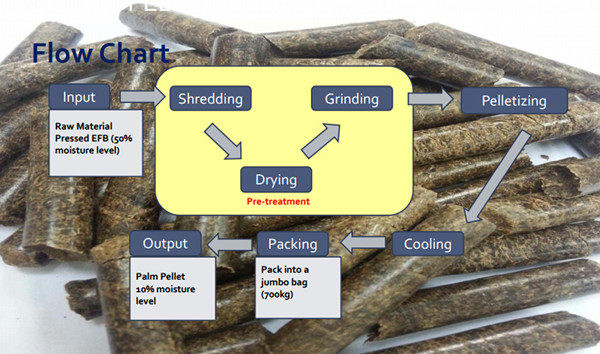 First of all, with the EFB shredder, crush the EFB fiber into short length Second, dry these EFB fiber with short enough length to make sure that they have suitable moisture content, usually from 8% to 12%.
Here, I'd like to point out that calorific value is the main concern for biomass substance. Most customers are willing to pay higher for low moisture substance as compare to higher moisture substance. The EFB pellet's moisture is the important parameter affecting its calorific value. Based on difference biomass material, it may contain different moisture level which eventually affect the net calorific value. For instance shredded EFB fiber always consists moisture around 60%, and esocarp fiber is lower in moisture level. However, an EFB pellet which process from grinded EFB fiber only consist of 10% moisture level, which is 4 times lower than it originate source.
Third, grind the short EFB fiber into powders that are small enough for later pelletizing
Fourth, feed the well-prepared EFB fiber powders into the large pellet mill that can make pellets from EFB fibers
Fifth, cool the EFB pellets' temperature down with pellet cooler
Last, pack the cooled EFB pellets into bags for transportation or storage. In this process, a pellet packing machine is essential.
Here is
the complete EFB pellets production line
set by us with our
large EFB pelletizers
. You may want to have a look, too.
Why Make EFB Pellets?
EFB Pellets VS EFB Fiber
Compared with EFB pellets, EFB fiber has many deficiencies, such as: bulky in volume, high moisture and low net calorific value, etc, but EFB pellet has no such problem. EFB pellet is a reliable biofuel resource, which is easy to transport, store and use. What's more EFB pellet has high density and high combustion value, and it releases more energy when burning. One of the key factors is different moisture contents.

Shredded EFB fiber usually contains about 60% moisture, having a gross calorific value at 3200kcal/kg. After considering the 60% moisture level, the net calorific value for shredded EFB fibre drop to 960kcal/kg. However, the EFB pellet usually contains about 10% moisture, having a gross calorific value of 4900kcal/kg. The net calorific value for EFB pellet is 4070kcal/kg.
In actual biomass boiler heating process, it is noticed that only 960kcal/kg of heat energy will transfer to the heating process, other 2240kcal/kg has been consumed because of the moisture level. In other words, there is 70% of heat energy lost due to the moisture. From this example, we can get the reason why the biomass boiler or factory owner request lower moisture level. Perhaps the 70% lost is solely from the substance heat energy stand point, it also imply a substantial portion of the transportation cost has been consume by the unwanted moisture.
About EFB ( Empty Fruit Brunches ) & EFB Fiber
Many of us should have known a lot about EFB pellets, but maybe very new to EFB. So what is EFB?
EFB refers to Empty Fruit Bunch from oil palm fruit, which is usually processed for crude palm oil and the remaining bunch is abandoned as empty fruit bunch ( EFB ). The EFB has to go through several processes to distill the long EFB fiber and the remaining short EFB fiber will be put aside and also collected. Both the long and short EFB fiber can be used for biomass purpose like making EFB pellets.
Even though EFB fiber is a good source of renewable energy, it always comes in loose fiber stage, which sometimes makes it less usable in practical stage. To make pellet from EFB fiber, a EFB shredder, sometimes also called crusher or chopper is necessary, because EFB fiber in short length makes the pelleting process easier and improves the EFB quality.
EFB Pellets VS Wood Pellets
As we all know, wood pellets as the primary biomass energy, have dominated the biomass pellets market for the past few years. Compared with wood pellets, EFB pellets are more widely used in industrial boilers, while wood pellets are still the best choice for house heating users. This is because household biomass boiler is more demanding than industrial biomass boiler.
EFB Pellet's Main Application
Power Plant
Boiler
House Hold BBQ Rack
Centralize Steam boiler

EFB Pellet's Advantages
EFB pellet has low moisture in nature. The moisture of EFB pellets is about 8-12%, while the EFB fiber's moisture always hit between 50-60%. Thanks to the low moisture content, the transport cost of EFB pellets saves substantially as a large portion of moisture is eliminated.
EFB pellet has high heating energy and efficiency. EFB fiber is compressed into EFB pellets in EFB pellet mill, thus EFB pellets have high density. Besides, dry EFB pellet also means the burning condition is more effective and user is able to retrieve better efficiency and predictable result. EFB pellet is able to burn thoroughly in the boiler chamber and only 5% substance left over as ash content.
EFB pellet is easy to transport, handle and store. EFB fiber always comes in bulk, but EFB pellets can have uniform shape and be packed in bags, which makes EFB pellet easy to transport and handle. Moreover, due to EFB pellets' high density and low moisture content, EFB pellets can be stored for a long time without decreasing its combustion value or burning efficiency.
EFB pellet enjoys easy control and broad application. EFB pellet size is small in dimension and easy for repack if house-hold application is needed. Some of EFB pellets can be repacked into convenient bag size in order selling to end user for BBQ burning substance. EFB pellet usually comes in 8mm diameter and length about 20-30mm, and this is a suitable dimension for most of the boiler input grate.
EFB pellet generate low to no smoke during the combustion. As we all know, air pollution becomes one of hot topics which people pay a lot attention to. EFB pellet as clean and sustainable energy generates no smoke or fume during its combustion process, consequently EFB pellet has very minimum particulate being discharged into air.
EFB Pellets in Malaysia
With 39% of global production, Malaysia is the world's second largest palm oil producer. Of an estimated 168 million tonnes of biomass residues generated annually, around 94 percent is from the palm oil sector. According to the Malaysian Palm Oil Board (MPOB) Malaysia has just over 5.2 million hectares (2013) of land currently under oil palm cultivation, about 16 percent of the country's land area. The palm oil industry generates an abundant amount of by-products, the tending, maintenance and restocking of the plantations and especially from palm oil processing. And one of the important by-products is EFB fiber.
Malaysia is well known for oil palm agriculture, and it is a world leading in oil palm plantation and crude palm oil production. EFB fiber is the discard by-product for the crude palm oil process industry. There are plenty of biomass materials in Malaysia which can be used to replace the fossil fuel. Main biomass materials available in Malaysia are as follows:
Empty Fruit Bunch 1,400 Kcal / kg 65 %
Woodchip 3,500 Kcal / kg 25 %
Sawdust 3,500 Kcal / kg 25 %
Rice Husk 3,000 Kcal / kg 10 %
EFB fiber is the cheapest compared with wood chips and sawdust. Besides, it reduces biomass energy's dependence on forest resource. Rice husk is a seasonal residue, while Empty Fruit Bunches ( EFB ) is a less seasonal and more abundantly available source of biomass in Malaysia. EFB fiber comes from the stripping of oil palm fruits in the oil extraction process at the oil mill. EFB's have about 30 percent solid content of which about 2/3 are fibrous and the remaining 1/3 are soft parenchyma tissues which cement the fiber together. What's more, most abundant biomass source in Malaysia is from oil palm and conducted some research with EFB's. Therefore, the skill of making EFB pellets is rather mature in Malaysia.
Currently shredded EFB has been used for local domestic biomass, however shredded EFB is not preferable for export market. The EFB will be further process to EFB pellet which favourable for export market.
EFB pellet is manufacture from EFB fiber through series of processes. Converting shredded EFB fiber becoming EFB pellet is a major contribution in renewable energy. Base on the EFB raw material availability, we have no surprise Malaysia becomes one of the main EFB pellet manufacturer for world renewable energy market. Below is some information regarding the Malaysia export of EFB Pellet around the world:
| | | | | | |
| --- | --- | --- | --- | --- | --- |
| Region | Asia | Europe | Middle East | Oceania | North America |
| Quantity (tons) | 82,630.52 | 27,353.23 | 8,236.40 | 2,095.01 | 124.38 |
Get In Touch
We receive enquiries in English, Español (Spanish), Русский язык (Russian), Français (French) and العربية (Arabic). Our professional team will reply to you within one business day. Please feel free to contact us!