Global wood pellet market outlook for 2019
From the perspective of North American producers, 2018 is one of the best years of trade in wood pellets for quite some time. With the rise of the British Drax power station, after several years of easing, new markets and consumers have driven strong growth in global demand. Imports from Denmark, South Korea and Japan were all at least 40% higher than before, and Japan's imports of wood pellets more than doubled. Overall, the trade in wood pellets in 2018 is estimated at 23.8 million tonnes, 26% higher than the 18.9 million tonnes in 2017. This article will look into the expectations of major markets in the coming years.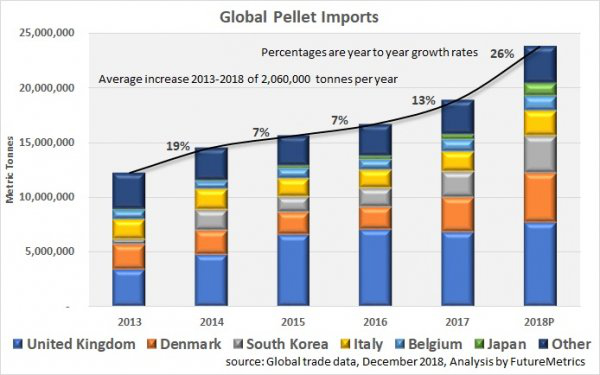 Industrial pellet market
Industrial pellet demand is estimated at 17.5 million tons in 2018. FutureMetrics expects industrial demand to climb to 29 million tons in 2023.
Nearly 60% of new demand growth is expected to come from Asia, with the rest coming from increased demand in the UK and the re-emergence of the important industrial pellet market in the Netherlands.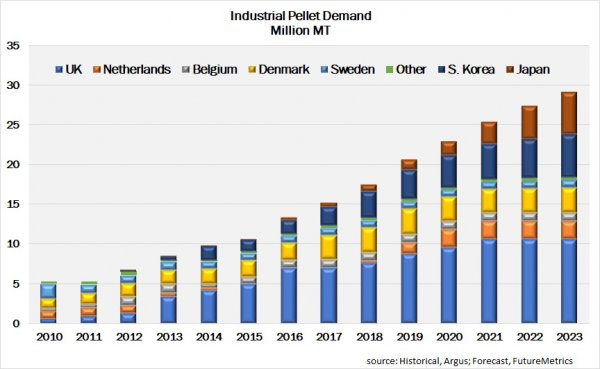 Netherlands
The Netherlands has a long history as a major market for industrial wood pellets. In 2010, the Netherlands was the largest market for industrial wood pellets – for co-firing to achieve renewable energy targets. After the introduction of the new renewable energy subsidy program in 2012, the market fell rapidly. The new SDE+ program calls for new sustainability standards to be established before biomass co-firing is eligible for subsidies. This sustainability standard was finally approved in 2015.
In 2016, four power stations received joint subsidies. Unit 9 of Amer Power Station was co-fired under the old subsidy program, and a large amount of wood pellets were recovered in the fourth quarter of 2018.
Other power plants may start co-firing in 2019 and 2020, making the Netherlands once again the main market for industrial wood pellets. The increase in demand for co-firing in the Netherlands is expected to quickly approach 2.5 million tons.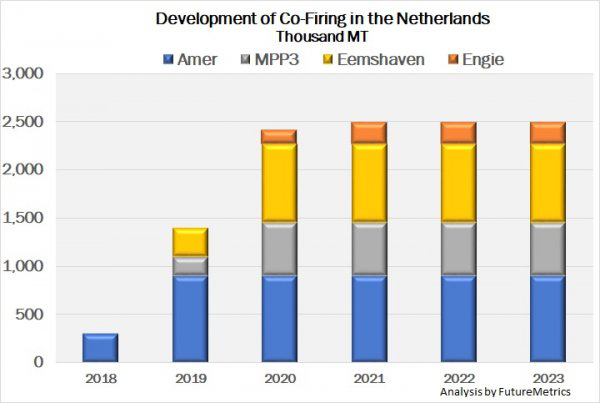 Japan
Japan's imports of wood pellets exceeded 1 million tons for the first time in 2018, about twice the amount imported in 2017. By the first three quarters of 2018, 63% of Japan's wood chip imports came from Canada and 31% came from Vietnam. Because Japan supports fixed-price and long-term contracts for renewable energy feed-in tariffs, strong rival long-term contracts are the preferred method for most Japanese buyers to purchase wood pellets. We expect Japan's wood pellet imports to continue to grow rapidly in the next few years, and imports are expected to exceed 5 million tons in 2023.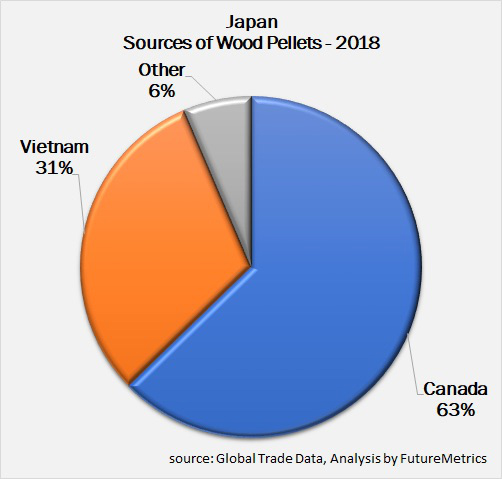 The United States has one of the largest pellet heating markets in the world. The annual demand for 2018 is estimated to be 2.5 million to 3 million tons. Approximately 85% of US demand is met by small and medium-sized domestic producers, approximately 10% from Canada and 5% from industrial producers in the southern United States. In the past few years, the US pellet market has been overstocked, but it has been cleaned up. Manufacturers are now worried about the shortage of the 2018-2019 heating season, mainly due to fiber supply problems in the east (about 50% of the US market in the Northeast). We expect moderate growth in the US heating market in the next few years, but it is different from industrial market expectations.
North American pellet production
North American grain exports will increase to the highest level in history in 2018. US pellet exports are expected to increase to 6.2 million tons, up 20% from 2017. Canadian grain exports are expected to increase to 2.4 million tons, an increase of 12.6% over the previous year. FutureMetrics estimates that US exports will increase to 8.5 million tons in 2023, while Canadian exports will increase to 3.7 million tons.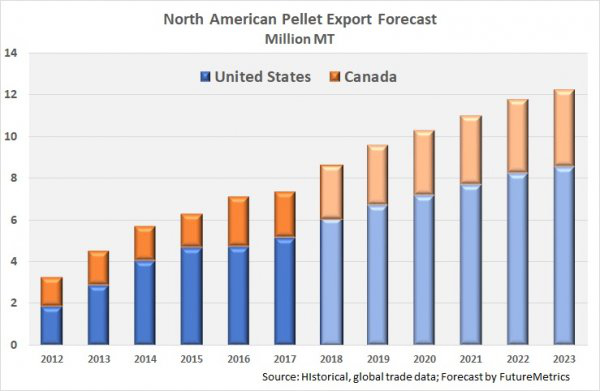 With the strong growth in pricing and demand in the industrial wood pellet market, we expect to develop new major industrial pellet mills in the southern United States after several years of real growth. In addition, the Pacific Northwest of the United States has the ability to supply a certain number of products to the fast-growing Asian pellet market. Maine is expected to become a new important export destination.
In western Canada, new growth is likely to be more pronounced. The loss of forest fires and the end of high harvest rates are affecting the production of sawmills, which affects the yield of the sawmill. Particle producers must purchase forest residues to maintain productivity. Several small and medium-sized industrial granulation plants will be seen in eastern Canada, as sawmills in these areas are looking for a market for surplus.
Get In Touch
We receive enquiries in English, Español (Spanish), Русский язык (Russian), Français (French) and العربية (Arabic). Our professional team will reply to you within one business day. Please feel free to contact us!